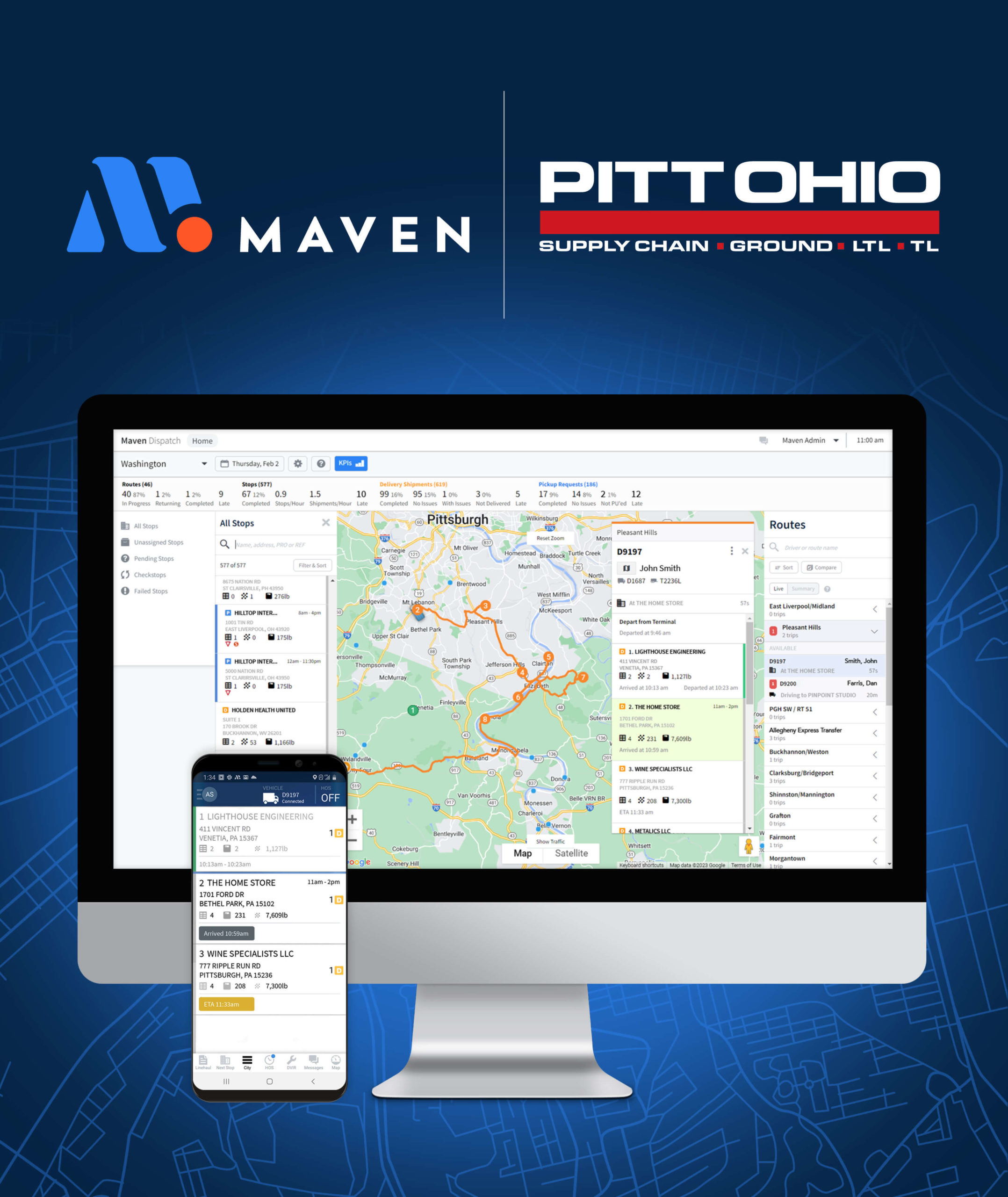 PITT OHIO Deploys Maven as its P&D and ELD/Telematics Platform
Maven's AI-enabled platform will improve operational efficiency for PITT OHIO's fleet of 1,700 trucks and optimize the driver and customer experiences.
PITTSBURGH — April 11, 2023 — Maven, a leading provider of cloud-based operations software to the trucking industry, announced that PITT OHIO is deploying Maven's unified P&D dispatching, driver workflow, line haul, and ELD/telematics platform across PITT OHIO's LTL fleet of over 1,700 trucks and 25 service centers.
After an extensive review, PITT OHIO determined that Maven provides a significantly better dispatching experience with grid and map interfaces and productivity-enhancing tools, allowing dispatchers to quickly rearrange stops and message drivers. PITT OHIO also expects to improve the driver to dispatcher ratio, use less fuel, and utilize Maven's performance data for driver and employee coaching.
Drivers and customers will benefit from Maven's accurate location data and geofencing, and PITT OHIO anticipates gaining a better understanding of costing data, stop times, and route deviations. The easy-to-use app with HOS tracking, document imaging, and P&D features like automatic lunch breaks will improve driver safety and compliance, simplifying the driver experience so that drivers can spend less time on their devices.
Chuck Hammel III, President of PITT OHIO, says, "Our standards are extremely high, and Maven provides best-in-class technology for LTL, allowing us to run a safer, more profitable fleet. Maven is helping us improve the customer experience with reduced claims and a happy, safe fleet of drivers, and the benefits will multiply from here."
PITT OHIO, a leading North American LTL freight carrier in North America, provides 97% plus on-time service. Maven's next-generation platform combines extensive input from PITT OHIO's dispatchers and drivers with efficiency-boosting AI/ML technology, benefiting PITT OHIO and other carriers across the industry.
Says Brad Caven, Vice President of Operations at PITT OHIO, "Maven's modernized LTL platform is providing PITT OHIO's employees with instant access to crucial information, enabling quicker and better decision-making. Drivers and dispatchers are thrilled with Maven's easy-to-use and dependable solutions, and deployment and adoption have been quick. The next group of users are very excited to go live."
Scott Sullivan, CIO/CFO of PITT OHIO, adds, "Maven understands LTL. Maven's data-rich platform is helping us provide more accurate shipment updates and ETAs for an exceptional P&D experience for drivers and customers. Other anticipated benefits from Maven include improvements in communication, HOS management, asset utilization and tracking, and intuitive dispatching for more optimal routes and pickups per day."
US Special Delivery and US Cargo, PITT OHIO affiliated companies, have been deployed on Maven since 2019. Maven serves multiple PITT OHIO partners and other carriers, and the PITT OHIO deployment will be completed in 2023.
"We're proud to provide PITT OHIO with a premier P&D software platform to improve compliance, safety, and operations," says Avi Geller, CEO of Maven. "We're seeing strong interest from other top LTL fleets who are ready to offer their employees a modern P&D and line haul experience to automate repetitive work for smarter, faster exception management and enhance dispatching, routing, and the driver experience."
About Maven:
Maven empowers fleets to produce measurable results with innovative solutions. Since 2014, Maven has provided premier P&D Route Planning and Optimization, Dispatch, Line Haul, Workflow, ELD, Telematics and Fleet Management software to trucking carriers of all sizes. North America's top LTL and truckload fleets rely on Maven's real-time, cloud-based platform for planners, dispatchers, and managers and its mobile app for drivers to maximize productivity, improve safety, and increase profitability. Learn more about Maven's full suite of operations solutions at mavenmachines.com.
About PITT OHIO:
PITT OHIO has been providing the best value in transportation and logistics solutions to our customers for over 43 years, reaching over $900 million in revenue last year. Headquartered in Pittsburgh, PA, PITT OHIO services the Mid-Atlantic, Midwest, and Northeast regions. In addition to their legacy LTL freight solution, PITT OHIO provides supply chain and logistics solutions including expedite, freeze protection, truckload, warehouse and distribution, container transloading, dedicated and more. To make this happen, and to fulfill PITT OHIO's Purpose, they employ over 3,200 employees who are committed to doing the right thing every day. Explore their website to see how PITT OHIO is dedicated to the safe and sustainable motor transport of products, doing right by their employees and their customers, and making a positive impact on the environment. To contact PITT OHIO, schedule service, or apply for employment, please visit their website at www.pittohio.com.
Maven media contact:
Paige Creo
paige@mavenmachines.com
PITT OHIO media contact:
Candi Cybator
cacybator@pittohio.com