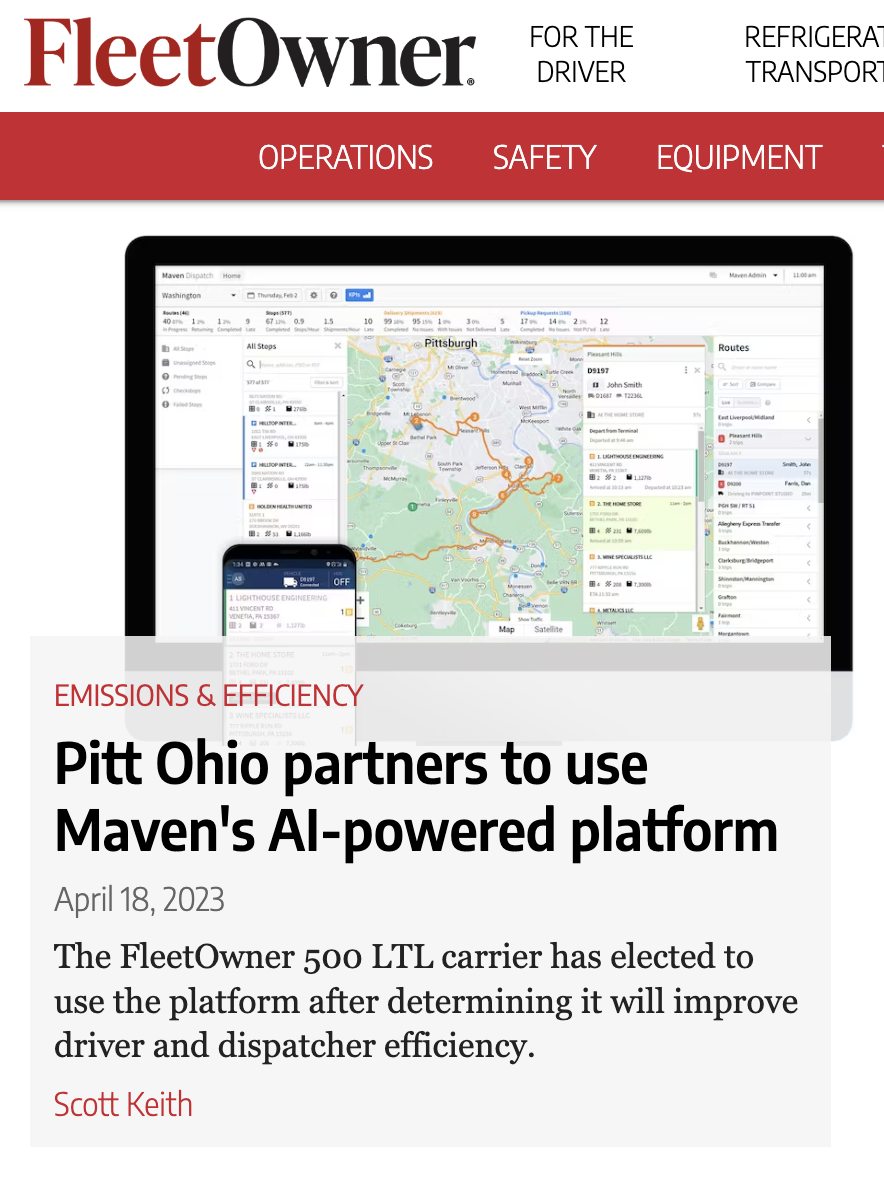 April 2023: Maven Company & Industry News
In April 2023, we announced that Maven's AI-enabled platform is successfully deploying at PITT OHIO, we participated in the Pennsylvania Motor Truck Association's Annual Conference while also gearing up for more events this spring, we stayed busy with other projects and deployments, and we released new features that help drivers, fleet managers, dispatchers, and planners run more optimal routes, while also saving time on other tasks through automation. And, we're hiring!
You can always contact us to learn more about Maven.
---
PITT OHIO Deploys the Maven Platform
---
If you haven't heard the news yet…we're pleased to share that PITT OHIO is deploying Maven's unified P&D dispatching, driver workflow, line haul, and ELD/telematics platform across its LTL fleet of over 1,700 trucks and 25 service centers.
Says Brad Caven, Vice President of Operations at PITT OHIO, "Maven's modernized LTL platform is providing PITT OHIO's employees with instant access to crucial information, enabling quicker and better decision-making. Drivers and dispatchers are thrilled with Maven's easy-to-use and dependable solutions, and deployment and adoption have been quick. The next group of users are very excited to go live."
Scott Sullivan, CIO/CFO of PITT OHIO, adds, "Maven understands LTL. Maven's data-rich platform is helping us provide more accurate shipment updates and ETAs for an exceptional P&D experience for drivers and customers. Other anticipated benefits from Maven include improvements in communication, HOS management, asset utilization and tracking, and intuitive dispatching for more optimal routes and pickups per day."
To learn more about how Maven optimizes fleet operations and improves the P&D experience, plus see what Chuck Hammel III, President of PITT OHIO and Avi Geller, CEO of Maven, have to say about the deployment, please see the announcement here:
For all articles and coverage on this news, including pieces in The Pittsburgh Business Times, Fleet Owner, Transportation Today, Fleet Equipment Magazine, CCJ, and more, check out mavenmachines.com/about/press/.
---
Upcoming Events
---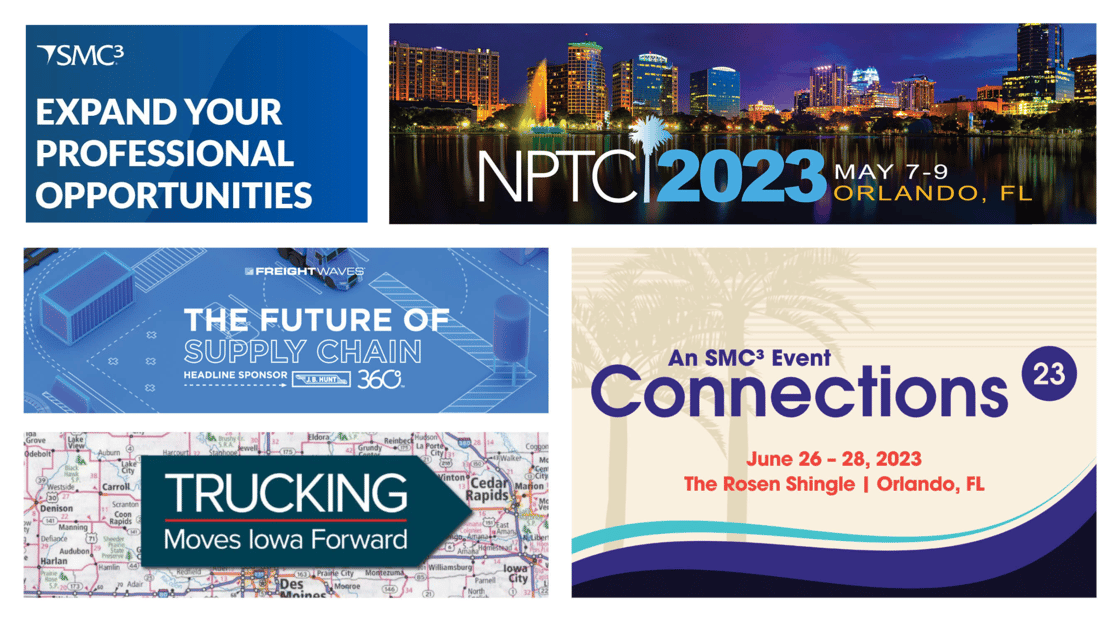 May 2023 Events & Speaking Sessions
NPTC Annual Conference, May 7 – 9, Orlando, FL. Visit Maven at Booth #129:
We're looking forward to exhibiting at the annual private fleet conference starting next Sunday in Orlando. We'll be showcasing the Maven platform at our booth and participating in other conference activities, so please swing by to see a demo or email sales@mavenmachines.com to schedule an introductory meeting.
SMC3 Online Education Hybrid Series, May 25th, 2 to 3 PM ET, "Technology in an LTL Environment" with Avi Geller, Maven CEO
As the capacity crunch escalates, more shippers are becoming dependent on LTL to move freight. What technology is important in today's LTL environment? From electronic logging devices, to real-time shipment visibility, to transportation management systems, these are but a few of the significant investments LTL carriers are making in a supply chain of uncertainty. Join this timely session as we explore how carriers, shippers and 3PLS are deploying the right technology to create efficiencies to better move freight, manage processes, and lower the LTL spend. Register for this course or the full LTL course package with the SMC3.
---
We hope to see you at these events in June!
Stay up to date with all Maven event participation here.
---
Maven Blog Recap: Recent Posts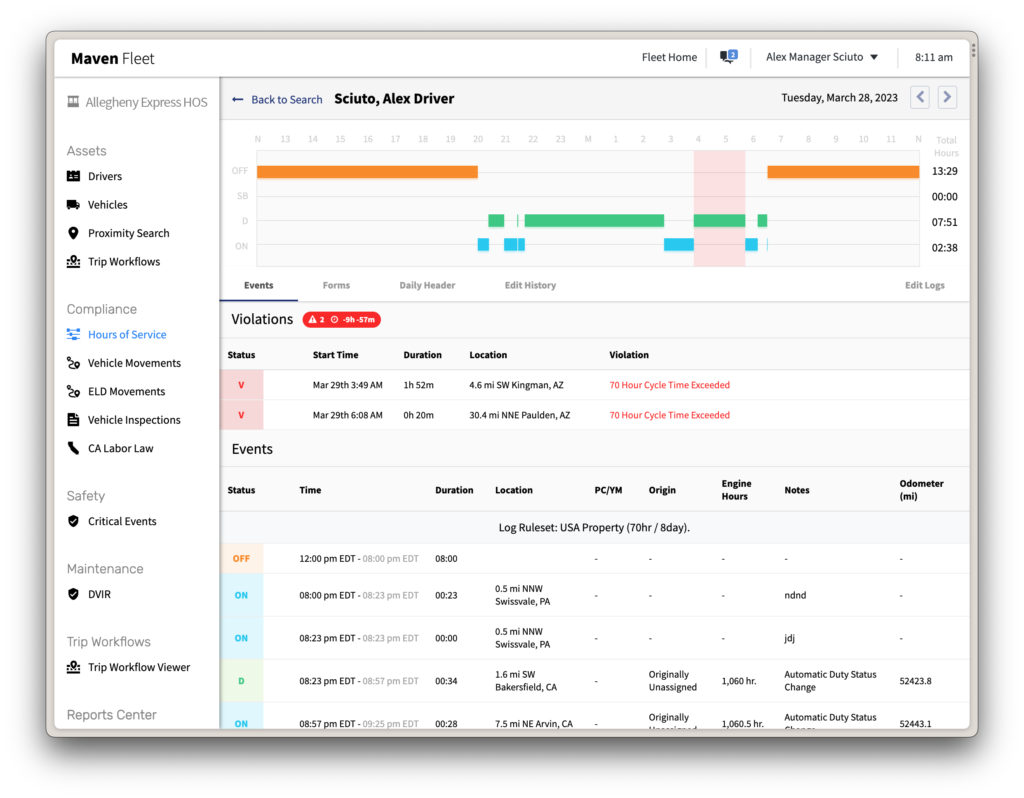 ---
Maven Careers
Please keep an eye out for top talent to send our way. Trucking industry experience is a plus!
---