MAVEN
SOLUTIONS
AI-enabled Route Planning, Dispatch, Driver Workflow, ELD, Telematics, and Fleet Management software suite that optimizes operations across trucking fleets to provide a measurable ROI.
UNIFIED PLATFORM ON THE CLOUD:
DISPATCH, ROUTE PLANNING, WORKFLOW, ELD/TELEMATICS, & FLEET MANAGEMENT SUITE

Since 2014, Maven has specialized in operations management software across multiple industries
in trucking, including LTL, truckload, distribution, beverage, final mile, and private fleets.

The Maven platform integrates with your fleet's TMS and other systems for a seamless experience.

Individual solutions in Maven's modular software suite can be deployed, or the entire suite can be utilized to maximize fleetwide efficiency, safety, and profitability.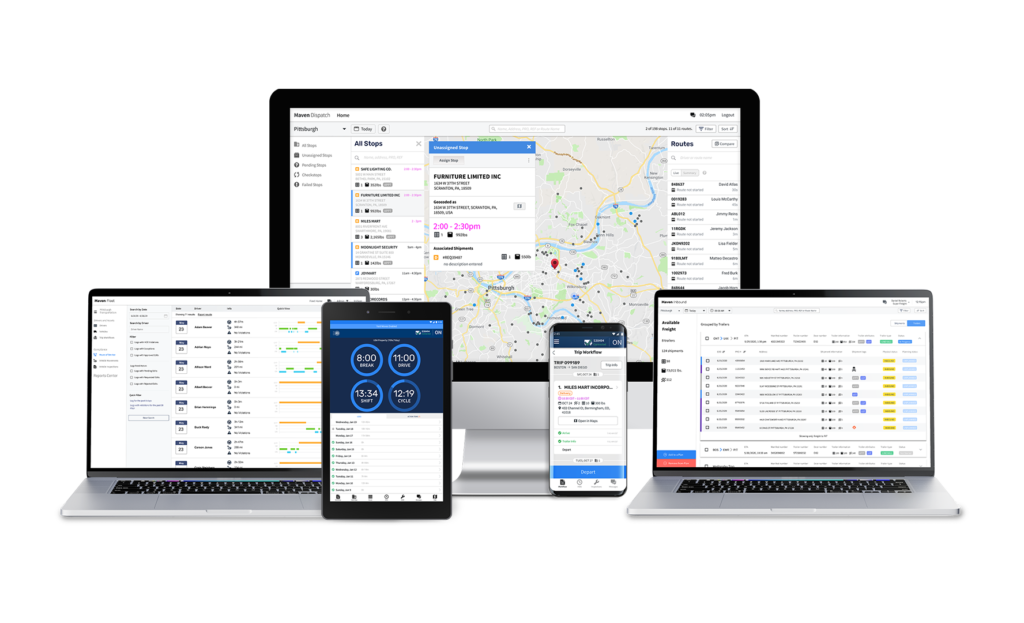 OVER 200 LEADING FLEETS RELY ON MAVEN'S UNIFIED, CLOUD-BASED
OPERATIONS PLATFORM AND MOBILE APP TO RUN MORE EFFICIENTLY THAN EVER BEFORE.
MAVEN'S FLEXIBLE SOFTWARE SUITE CAN BE TAILORED TO YOUR FLEET'S UNIQUE OPERATIONS.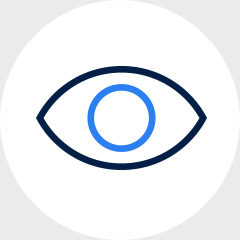 REAL-TIME
VISIBILITY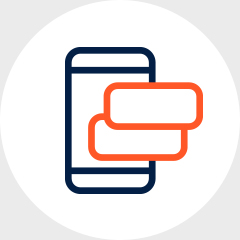 USER-FRIENDLY
INTERFACE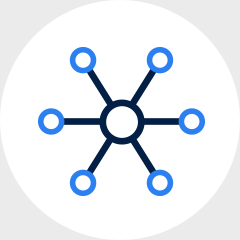 UNIFIED
PLATFORM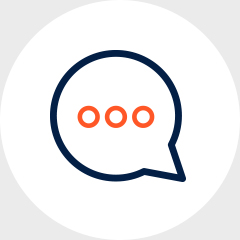 24/7 EXPERT
SERVICE
MAVEN ROUTE PLANNING
Automatically plan and optimize routes for increased efficiency and profitability. Save time and maximize productivity and capacity utilization with the intuitive, AI-enabled route planning tool, reduce costs (average of 19% reduction in costs annually) by running fewer routes per day, and generate revenue with more stops per route and service level improvements.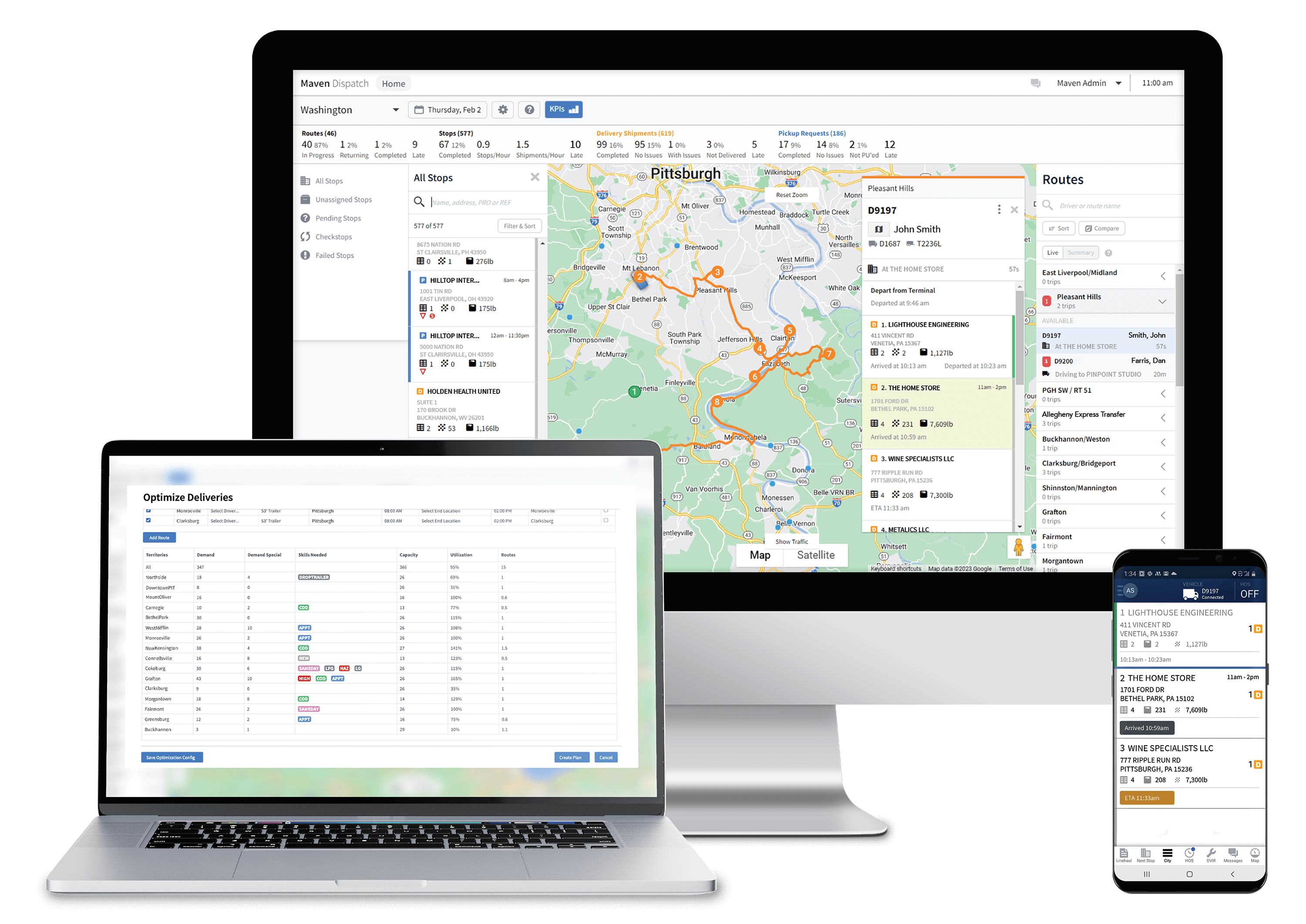 MAVEN DISPATCH
Intuitive portal with map and grid views for dispatchers. Utilize best-in-class dispatching tools to boost productivity and gain real-time visibility into pickup and/or delivery routes, stops, drivers, movements, shipments, customer records, KPIs, and more. Drivers also execute their workflows, handle messages, complete routes, and stay on task with the Maven mobile app, all in lock-step with dispatch.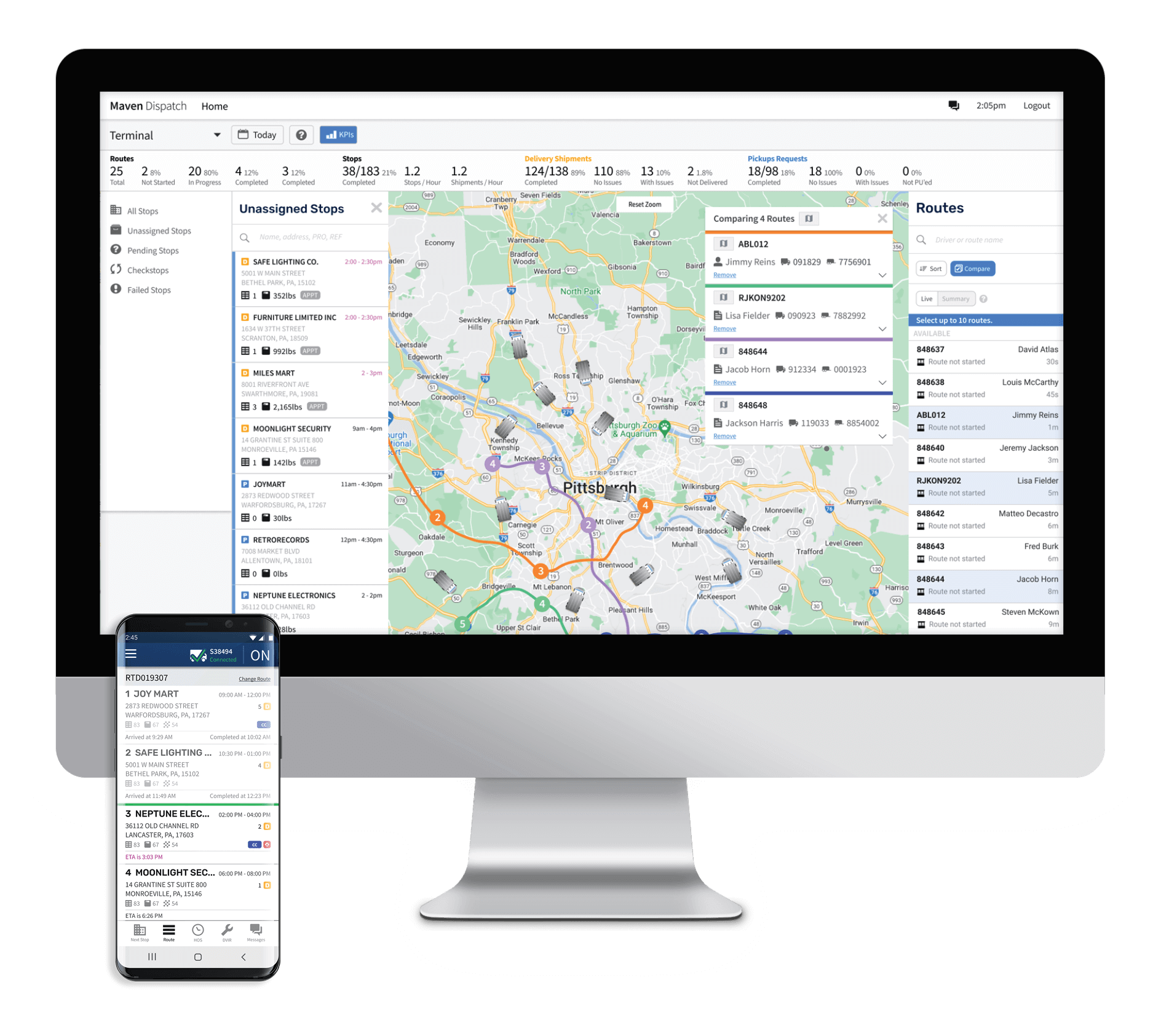 MAVEN WORKFLOW
Maven's workflow solution increases productivity for drivers and managers. Create custom workflows with the right information for drivers on the Maven mobile app, gain visibility into all drivers, stops, and trips on the online portal, and communicate easily in the system with the messaging feature.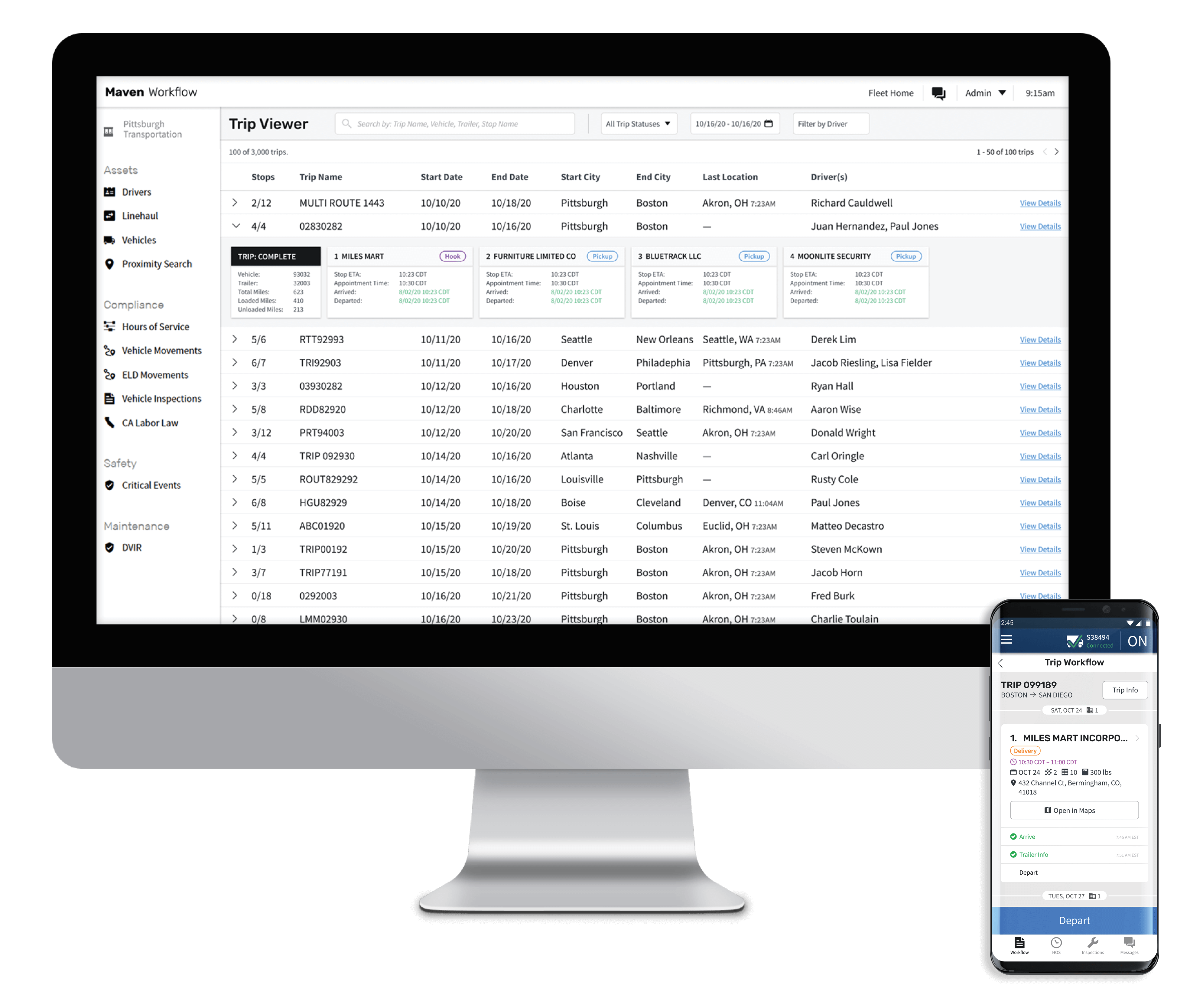 MAVEN FLEET
Reliable, real-time HOS monitoring, asset tracking, fleet & driver management, and telematics software that is easy to use for managers and available from anywhere on the cloud. Managers have visibility into the driver's routes/trips, vehicle and engine data, and their actions on Maven ELD and the mobile app.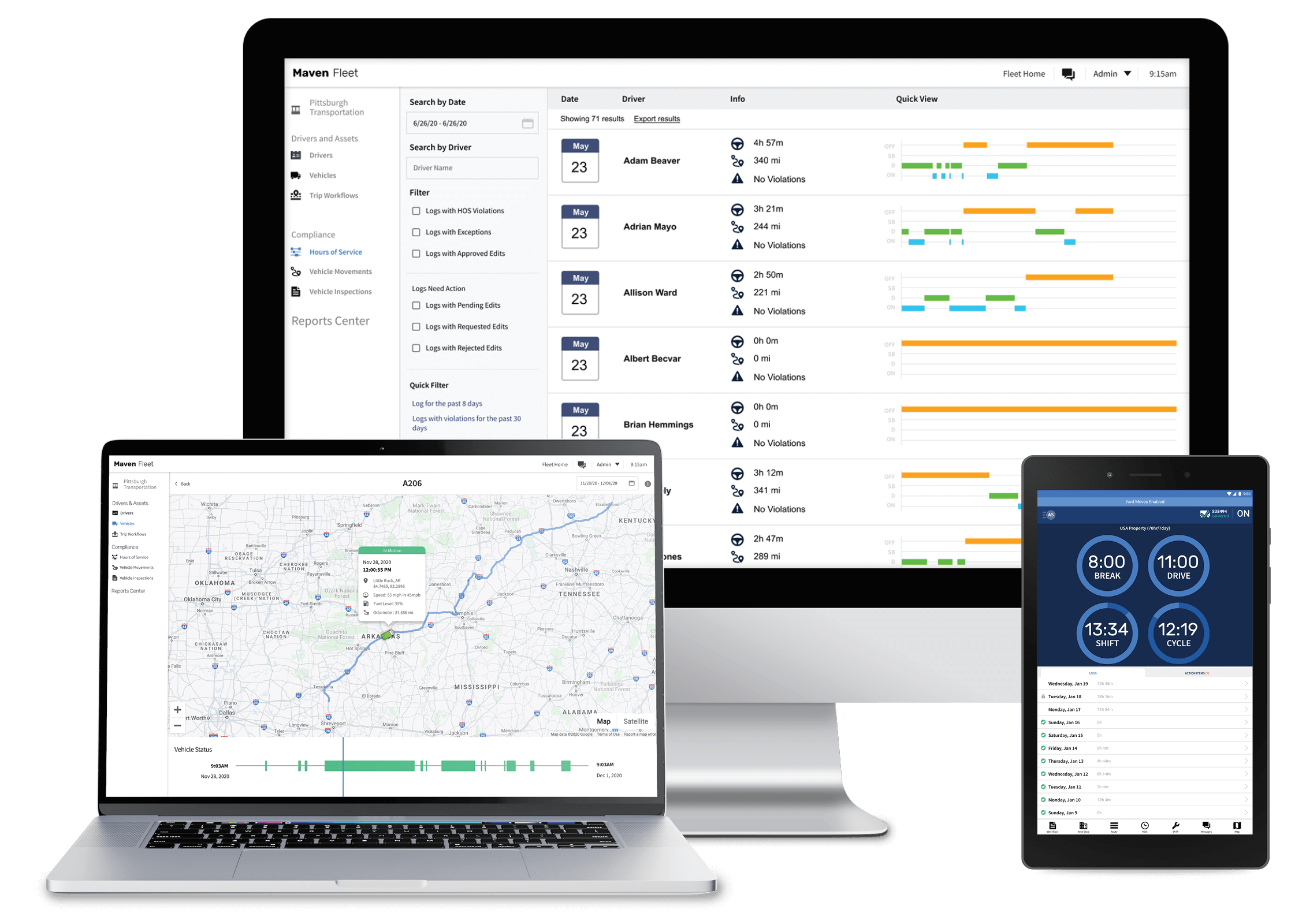 MAVEN ELD
Drivers can meet FMCSA compliance requirements, reduce paperwork and risk, improve safety, and save time. The easy-to-use app also speeds up roadside inspections.
Flexible Options with a Trusted Partnership
OUR WORLD-CLASS TECHNOLOGY & PROFESSIONAL SERVICES TEAMS
WILL WORK CLOSELY WITH YOUR TEAM TO UNDERSTAND YOUR BUSINESS & IT NEEDS
AND TAILOR MAVEN'S SOLUTIONS TO YOUR FLEET OPERATIONS.
Please contact our team at
sales@mavenmachines.com or 412-499-3877
to learn more or schedule a product demo.