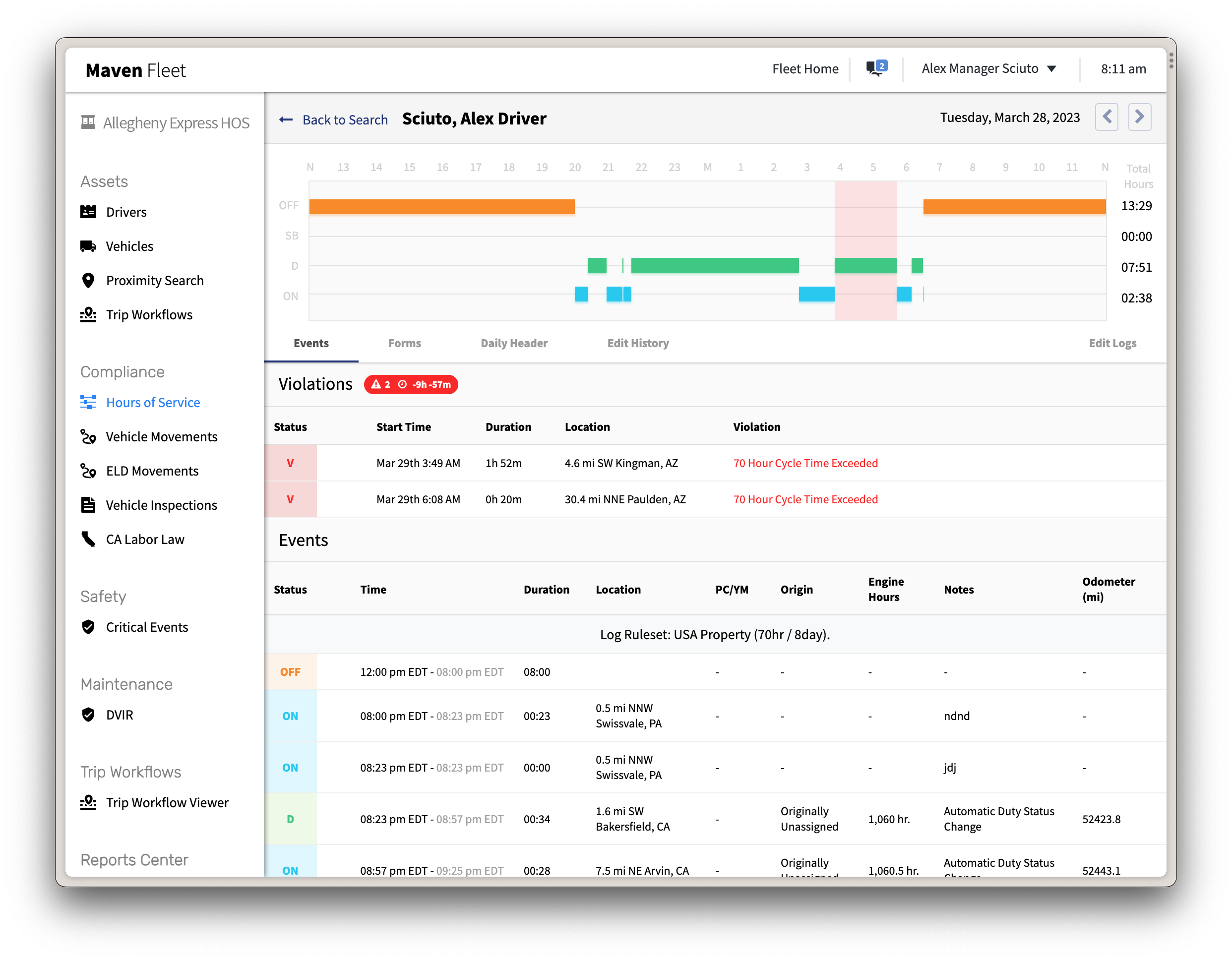 April 2023: Maven Product Updates
Maven's cloud-based platform consists of a flexible, modular suite of software products for ELD/Telematics, Fleet Management, Workflows, P&D, Dispatch, and Route Planning & Optimization for LTL, truckload, private and dedicated, beverage, and last mile fleets of all sizes. We continually release new features to improve the experience of fleet leaders, managers, planners, dispatchers, drivers, and their customers. Please see the below overview for recent April 2023 feature releases and a sneak peek into upcoming improvements.
To learn how to access specific features or purchase new products, email info@mavenmachines.com.
For technical support inquiries or to receive further instruction on how to use a feature, please contact support@mavenmachines.com.
---
Maven Fleet Portal & ELD Updates
---
Automatic HOS Time Zone & Ruleset Configuration for Drivers
Maven has now introduced the ability to set default time zones and rulesets for drivers using Maven ELD. When this optional configuration is enabled for a fleet and a driver is created in the Maven system with HOS permissions, they will automatically have logs set up for them when they log in to Maven for the first time. Currently, drivers enter their home time zone and ruleset information when they sign into Maven for the first time; fleets can continue using this configuration if they wish. However, automatic HOS configuration saves time and reduces the likelihood of errors from the driver.
This feature is available now. To have this configuration enabled for your fleet, please contact your account manager or reach out to info@mavenmachines.com.
Once the feature is enabled and a driver is created as a user, a fleet administrator can then change the HOS configuration settings for the log time zone, start time, and ruleset on the Users tab of the Admin section of the portal.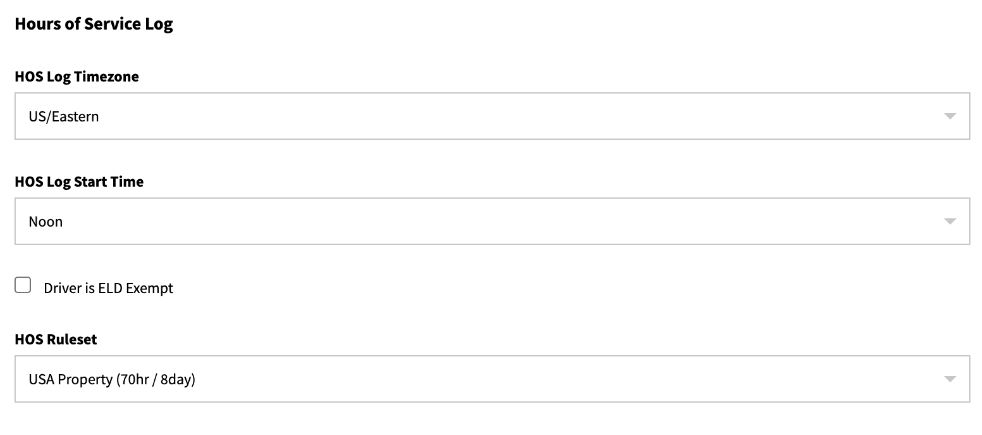 ---
Noon-to-Noon HOS Logs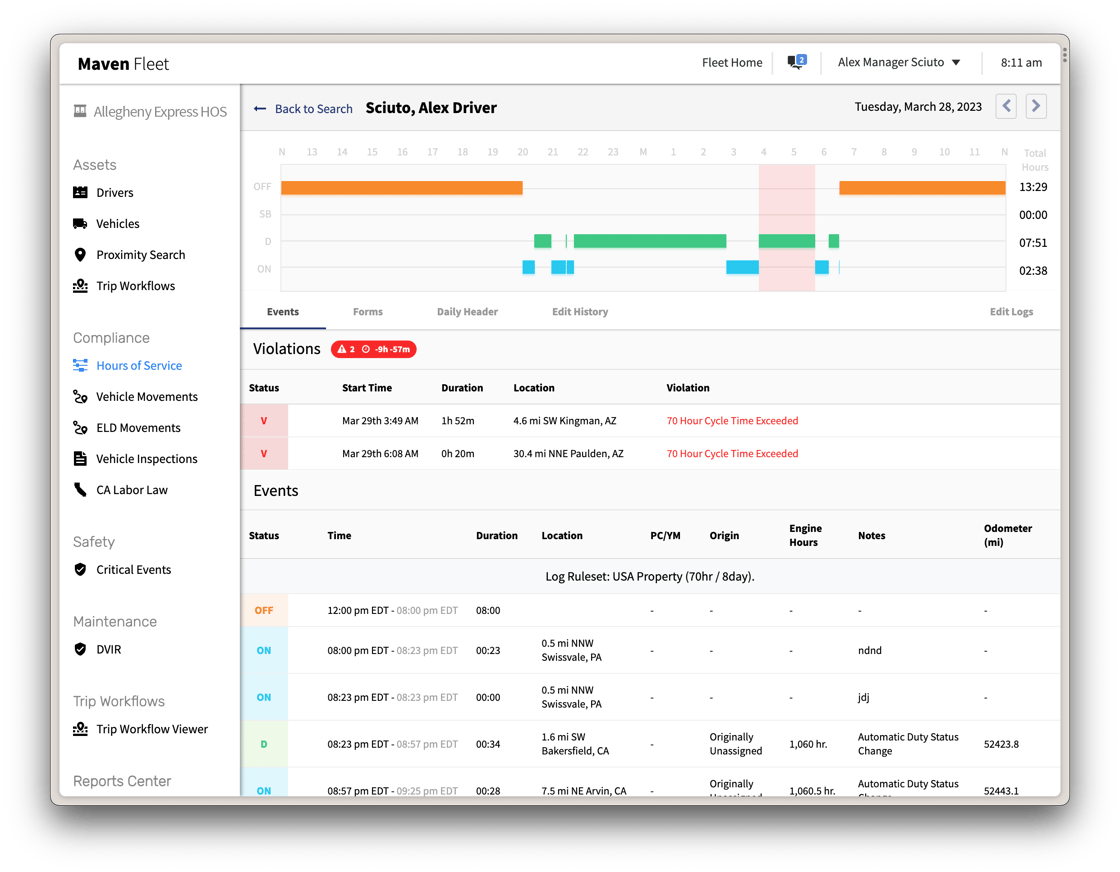 Drivers can now have their HOS logs start at noon instead of midnight. The noon start time logs appear in:
1. The Admin Settings and FMCSA eRODS uploads in The Maven Fleet Portal for managers
2. On the HOS tab and the HOS PDF Export in The Maven ELD Mobile App for drivers
3. The Driver Portal
An admin can change a driver's HOS log start time on their Administration page by going to the Users tab, selecting the driver from the list of users, scrolling down to the "Hours of Service Log" section and changing the "HOS Log Start Time" field dropdown to either "Noon" or "Midnight."
For fleets that have enabled the Automatic Time Zones & Rulesets Configuration (see above section on this new feature), Maven can also automatically set all new drivers for a noon start time via a "Noon Log Driver" role permission.
Here's how changes to time windows will be handled: When a driver is switched between start times, a 36-hour-long log is created for the driver to make the conversion from one start time to another. When going from midnight to a noon start time, the current day's log is extended an extra 12 hours to end at noon the next day. When a driver goes from a noon log to a midnight log, the current day's log is similarly extended an extra 12 hours to end at midnight.
This feature is currently available to all Maven Fleet portal administrators and Maven ELD users (drivers). If you have questions about how to use this feature or you'd like to have Maven automatically set your drivers to a noon start time, please contact your account manager or reach out to info@mavenmachines.com.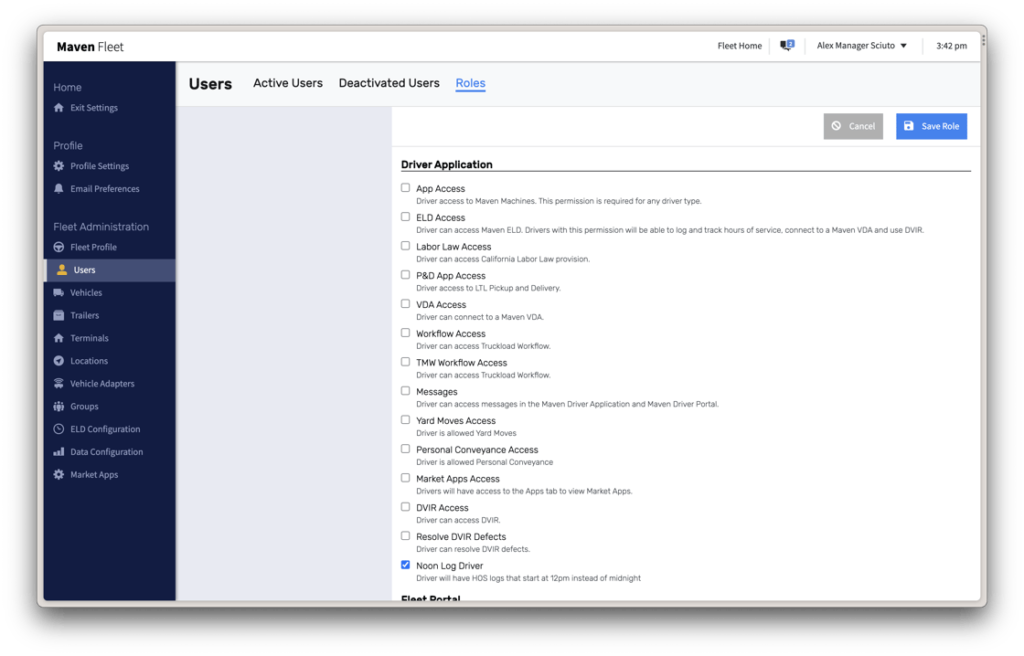 ---
New Options in Admin Management for Driver-Vehicle Sessions
Admins can now force remove a driver from a vehicle on the Vehicles page in the portal, and they can also choose to allow a driver to check out a vehicle that another driver already has checked out.
---
Maven Route Planning Updates
---
Route Optimization Improvements
The route optimization algorithm will now factor in historical pickup data.
The "Optimize Deliveries" screen that planners use to input data and constraints includes fields for lunch stop requirements.
Coming soon: the "Optimize Deliveries" screen will allow users to indicate whether particular assets are limited to specific stops based on pallet spaces.
To learn more or start using our best-in-class Route Planning portal, please reach out to your account manager or contact info@mavenmachines.com.
---
Maven Blog Recap: Recent Posts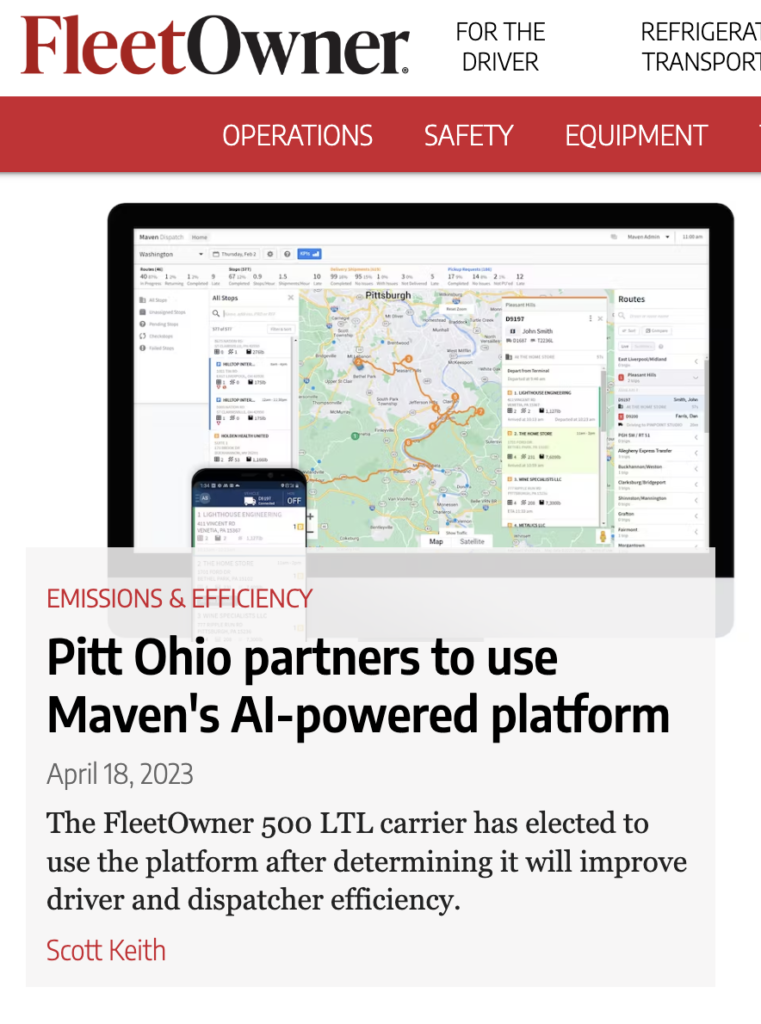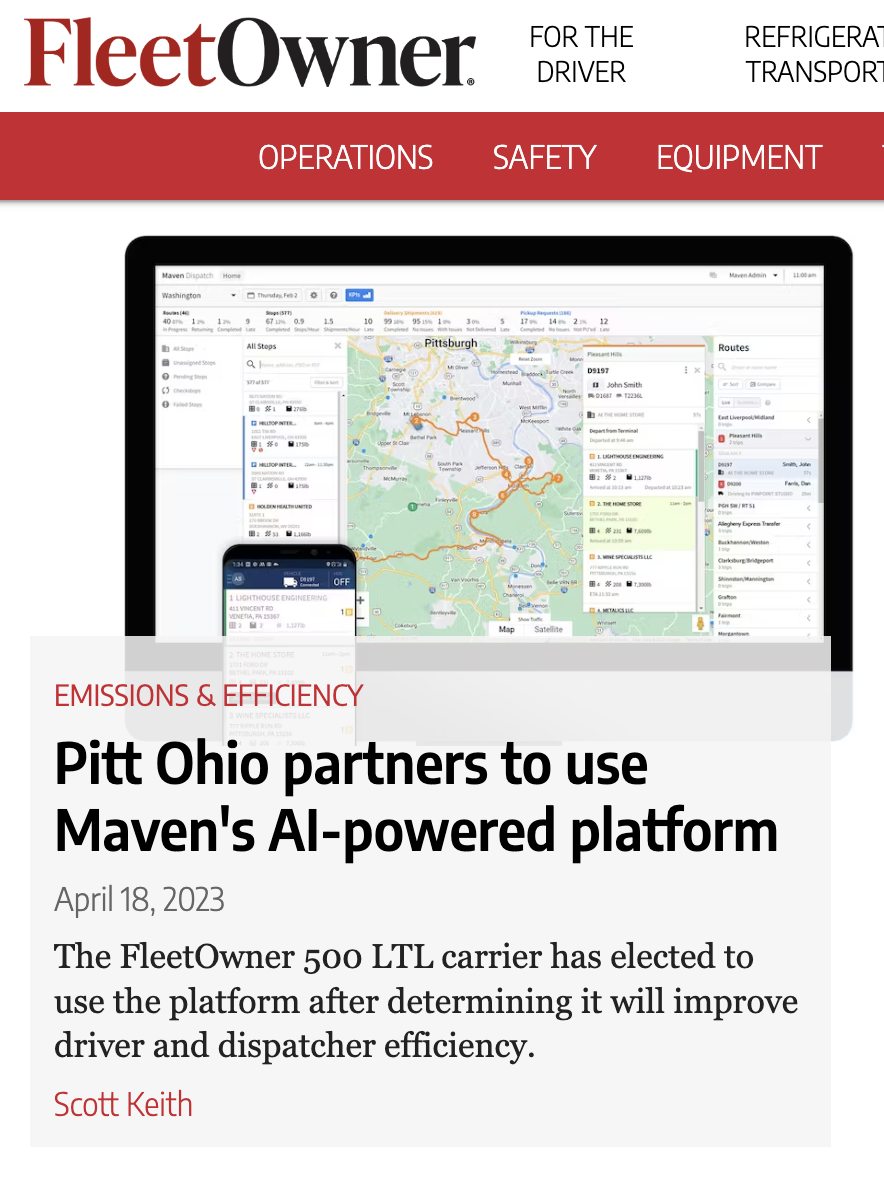 Maven Careers
Please keep an eye out for top talent to send our way. Trucking industry experience is a plus!
---