October 2022: Maven Product, Company, and Industry News
In October, we found ourselves busy with new product updates, as well as the ATA MCE 2022 conference and other initiatives. We're also looking forward to our on-stage automated route planning and P&D optimization demo this Nov. 2nd at the FreightWaves F3 Future of Freight Festival in Chattanooga.
Several feature updates are now available in Maven's mobile app for drivers and cloud-based platform for managers, dispatchers, and planners, including a KPI bar for LTL fleets in our portal.
At Maven, we provide fleets with intuitive, mission critical software that increases daily productivity and success while also reducing costs.
FreightWaves F3 Future of Freight Festival:
On-Stage Automated Route Planning and P&D Demo
The FreightWaves F3 Future of Freight Festival will take place this week from Nov. 1st to 3rd in Tennessee. This festival-style conference experience will take place at multiple venues in Chattanooga to bring together leaders and innovators in the freight industry around rapid-fire demos, speakers, and other events.
Maven will be doing a demo on the Startup Alley stage at 10:40 a.m. ET on Weds., Nov. 2nd. During this 7-minute demo, Maven CEO Avi Geller and Sr. Product Manager Alex Sciuto will showcase Maven's cloud-based, AI-powered route planning solution. By improving planning and route efficiency, the software saves time for planners, dispatchers, and drivers while reducing P&D operations costs for leading LTL fleets.
We are happy to meet with you in Chattanooga to explore how Maven's software suite, which also includes ELD and fleet management products, can help your fleet meet its unique goals. Please reach out to our Sr. VP of Sales, Tim Jones, at tim@mavenmachines.com to connect at the conference.
ATA MCE 2022 Event Recap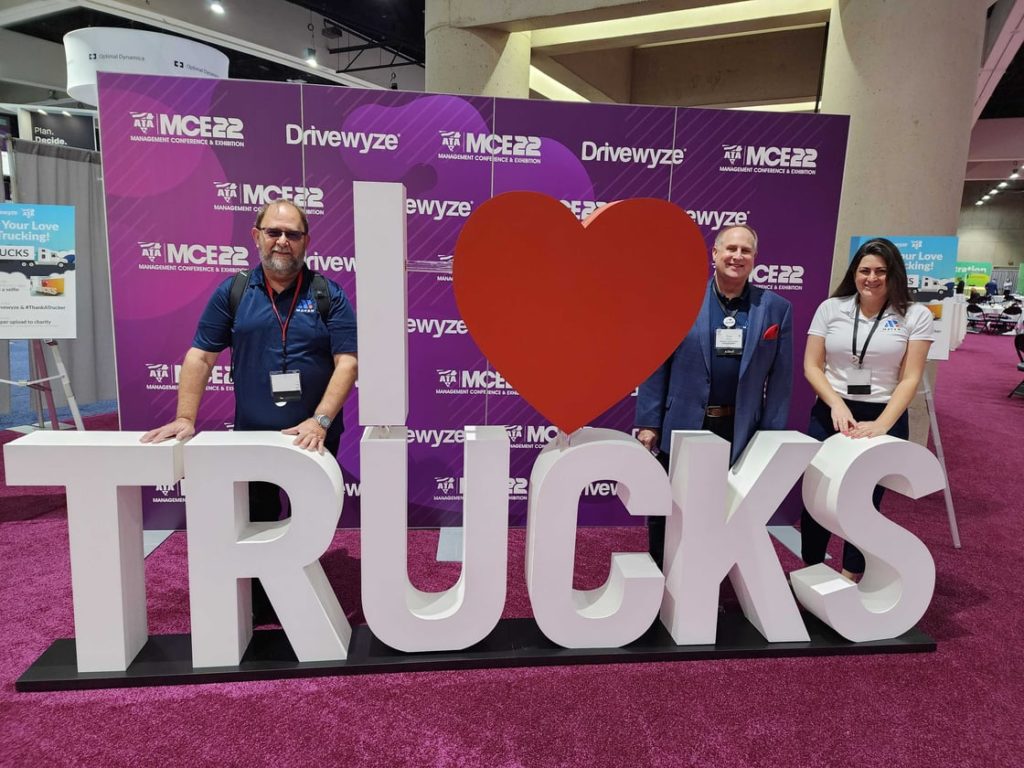 At Maven, we love trucks! And we really love the people who drive them, along with those who oversee daily fleet operations, lead different aspects of the business, own fleets, and work in other trucking industry roles. So much behind-the-scenes work and strategy goes into managing assets, drivers, plans, routes, customer service, and more at trucking carriers.
At the American Trucking Associations' Management Conference & Exhibition from Oct. 22–25th, 2022, it was a great chance to connect and reengage with so many individuals and groups that bring success to our industry, such as top performing truck drivers and fleet leaders, as well as many others who play major roles in our essential industry, including other technology innovators.

The educational and speaking content at the ATA MCE 2022 was next level, and Maven's Sales, Marketing, and Operations leaders enjoyed demoing our productivity-boosting automated route planning, dispatch, P&D, telematics, ELD, driver workflow, and fleet management software platform at our booth.
If we didn't get a chance to meet at the conference and you'd like to learn more about Maven's comprehensive operations platform, please feel free to reach out to Tim Jones, Sr. VP of Sales, at tim@mavenmachines.com.
Recent Maven Product Updates & Highlights
For technical support inquiries or to receive further instruction on how to use a feature, please contact support@mavenmachines.com.
To learn how to access specific features or purchase new products, email info@mavenmachines.com.
Maven Dispatch & Planning Portals
The Maven KPI Bar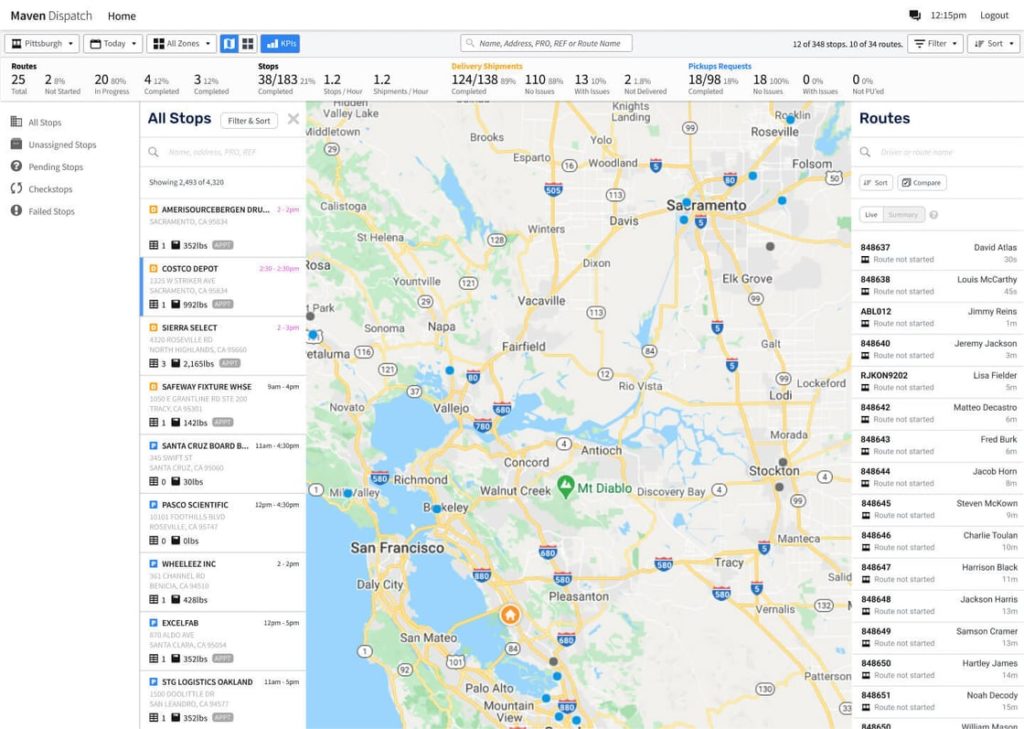 Maven has implemented a KPI bar at the top of the Dispatch & Planning portal screens. This provides real-time metrics that LTL dispatchers, planners, and managers need to run their daily terminal operations effectively, such as stops per hour, percent of completed deliveries, and issues with pickups.
By providing the most relevant key performance indicators at a glance, and in real time, Maven provides fleet employees with the data that they need to communicate more effectively and efficiently with each other and their drivers. Users can then make faster, more informed decisions throughout the day to improve driver, terminal, and fleet performance.
Other Updates to Maven Dispatch & Route Planning
We are continually adding new features and functionality to our P&D dispatch and automated route planning software. Below are a few recent updates that provide these users, such as planners and dispatchers, with more control and flexibility.
Users can now:
Edit delivery dates and windows on the inbound freight planning screen
Exclude and filter information such as shipment tags, cities, or zones
Update planned start times on manifests
View and print load sheets
New options for constraints are also being added to our route planning and optimization tool to improve planning and route efficiency.
To start using Automated Planning & Route Optimization or see a demo, please contact sales@mavenmachines.com.
Maven Fleet Portal
Ability to Message a Vehicle
Maven Messages now gives Maven Fleet management portal users the ability to directly message a vehicle for a driver that uses Maven ELD via the vehicle number. Additionally, Maven Messaging still allows users to message individuals, like drivers, and groups, like terminals.
Maven Fleet portal users, such as managers, can post a message to an open channel thread with the vehicle. Any driver who selects that vehicle will then be able to view and respond to any messages that are sent in that vehicle's thread.
In order to see these vehicle message threads, drivers will need to ensure that they have the vehicle checked out on their device; we have also introduced new features to remind drivers to check out their vehilces while logging in. More info on these features is included below in this email.
Customers can request to have the "Message a Vehicle" feature enabled for their Maven Fleet users at any time by contacting info@mavenmachines.com.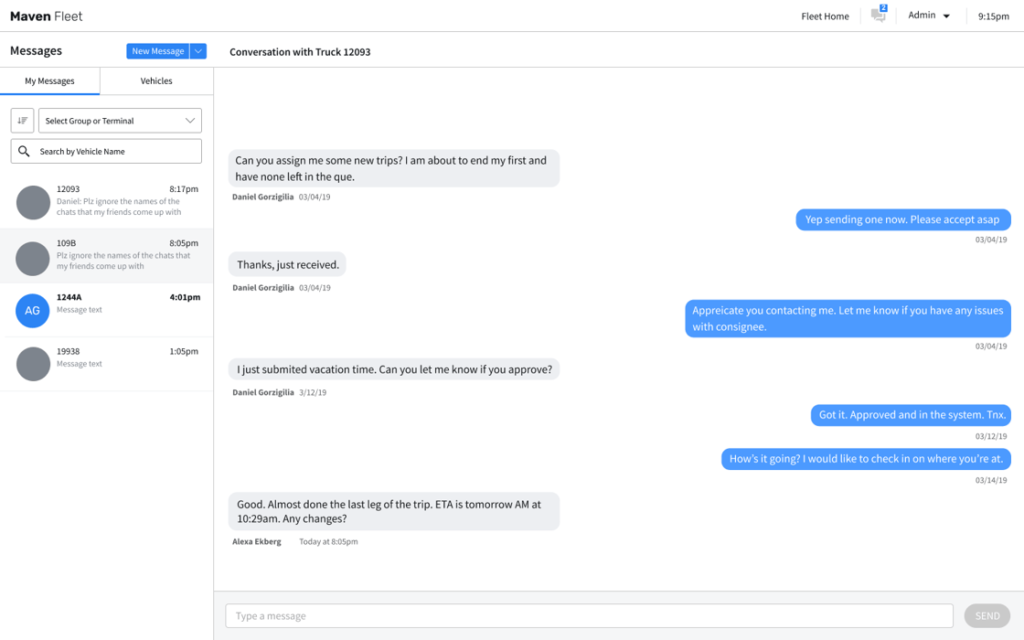 Maven Workflow: Mobile App Updates
Currently, the following mobile app features are being used by drivers who have Maven Workflow enabled with their ELD.
To request access to these features for your fleet, please email info@mavenmachines.com.
Ability for Team Drivers to View Other's Duty Statuses & HOS Timers
Maven has introduced the ability for team drivers using Maven Workflow to view certain information pertaining to their co-drivers in the ELD section of their mobile app. A driver can create a relationship with their co-driver in the app, and the co-driver's name will then be pre-filled in the forms on their electronic logs going forward. Maven now allows co-drivers to view each other's current duty statuses, how long they have been in that status, and their current HOS timers.
These feature updates are highly valuable for fleets and drivers who use team driving, as co-drivers can more readily move through their work and communicate with each other and their managers about their driving shifts, compliance, and more.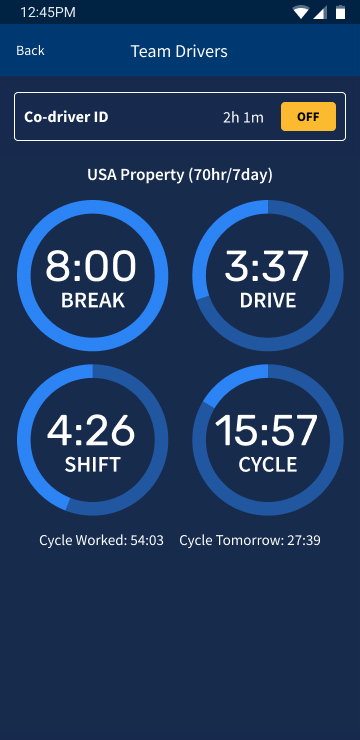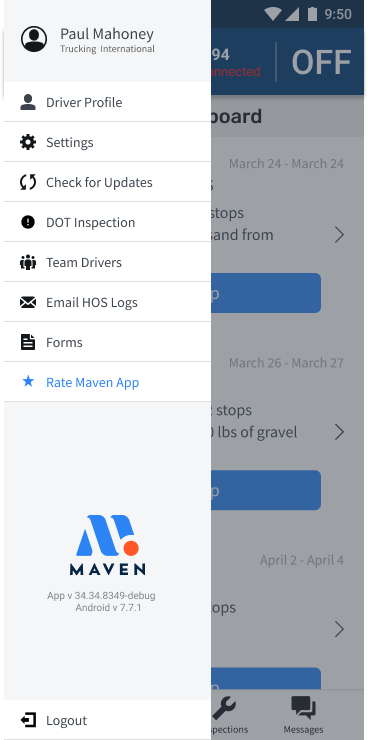 Drivers Are Prompted to Select their Vehicle Upon Logging In
Maven has now made it easier for drivers using Maven Workflow with ELD to select their vehicle upon logging into the Maven mobile app. By immediately prompting Maven Workflow drivers to select their vehicle after they log in, Maven provides a more accurate vehicle selection process and helps prevent unassigned miles from occurring, helping drivers stay compliant.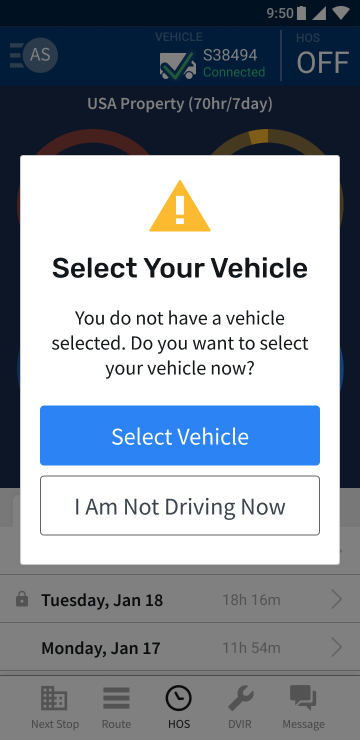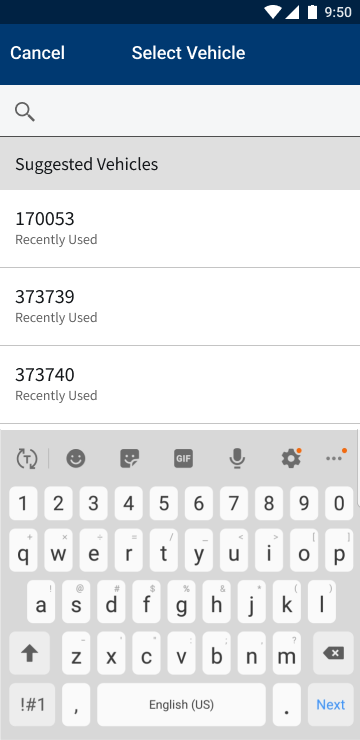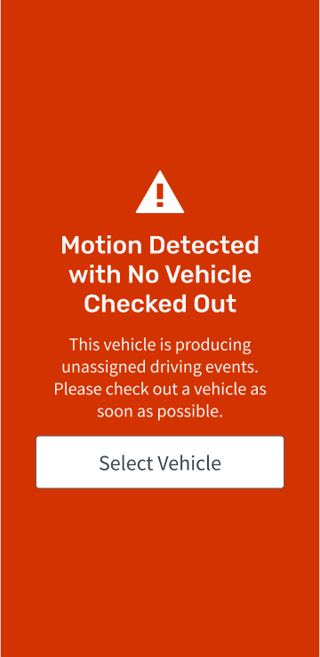 "No Vehicle Checked Out" In-Motion Alert
Drivers using Maven Workflow with ELD should select their vehicle in the Maven mobile app before moving the vehicle. However, if a driver bypasses the vehicle selection step and begins driving, the device will automatically detect that they are in motion. It will then immediately issue a pop-up warning alerting the driver that they need to stop moving and select their vehicle first. The alert will show up on the Maven mobile app screen when the driver hits at least 5 mph in speed within 15 seconds. It will not disappear from the screen until the driver hits "Select Vehicle" and chooses their vehicle.
The driver will only be able to select their vehicle on the screen once they stop moving. This alerting feature will help keep the driver safe and compliant as they begin their day in the mobile app and operate their vehicle.
Maven Blog Recap: Recent Posts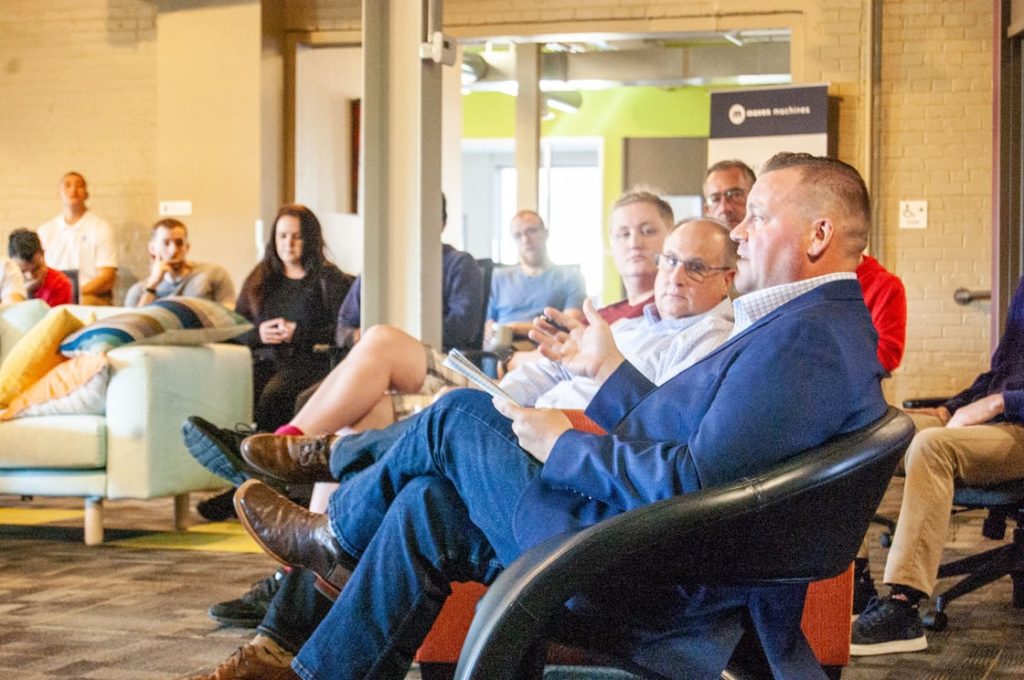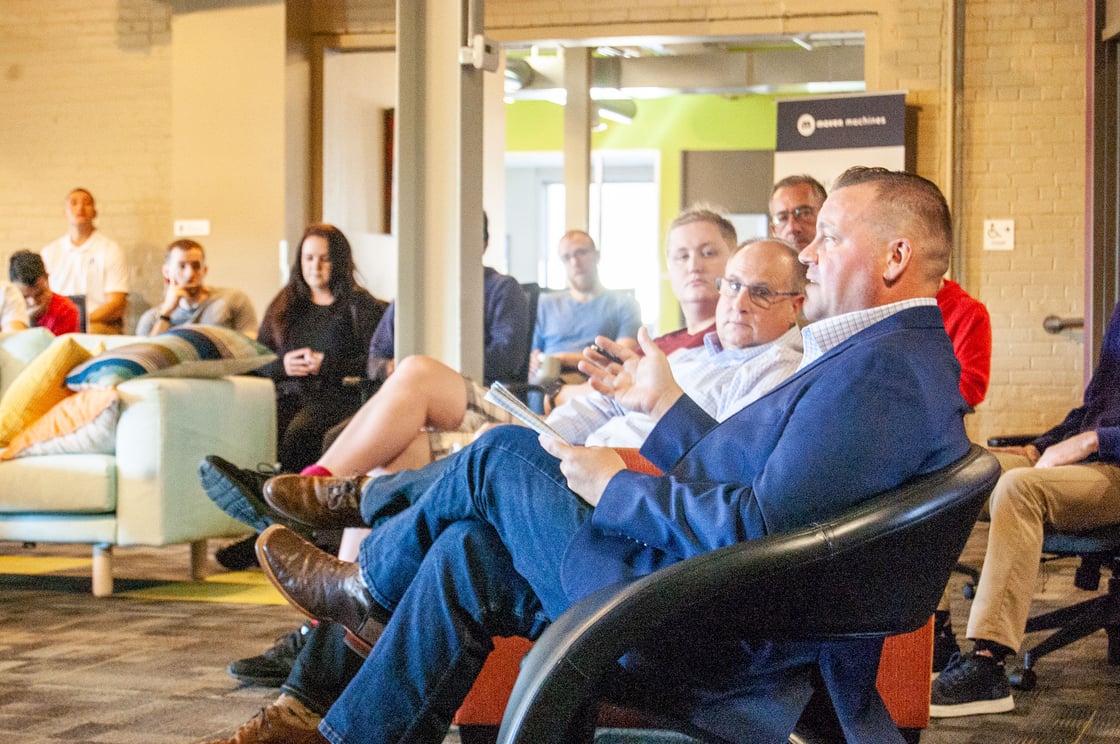 Maven Careers
Please keep an eye out for top talent to send our way. Trucking industry experience is a plus!
---