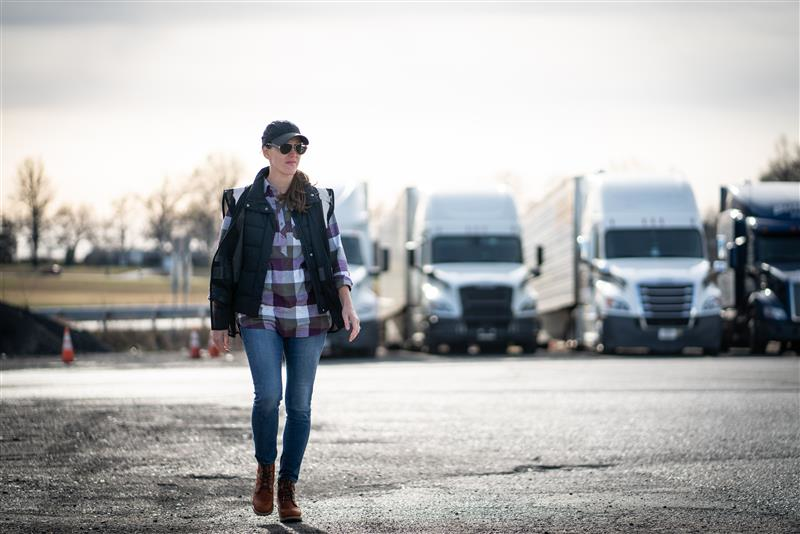 Supply Chain Snarls and the Driver Shortage Heading into 2022
The following article first appeared in Food Logistics on January 1, 2022.
---
The trucking industry's driver shortage has been top of mind for fleets for years. It's a situation that contributed to supply chain challenges during the pandemic, with the American Trucking Association (ATA) estimating 2021's driver shortage topped 80,000 drivers. Experts worry that if the current trend continues, the trucking industry could need more than 160,000 drivers by 2030.
However, the country's supply chain issues won't magically resolve when the calendar flips to Jan. 1. Driver shortages, too few warehouse and dock workers, bottlenecked ports and limited shipping containers are all contributing factors. It will take time — well into next year, most likely — for the supply chain to stabilize. While demand is surging, trucking companies need the resources and technology to meet that demand.
With such volatility, what can the trucking industry anticipate for 2022?
Driver retention
If trucking companies want to retain drivers, they must continue to prioritize improving driver experiences in the new year. While driver pay remains a top industry issue ranking high among concerns expressed by commercial drivers, providing a better overall experience for truckers is also vital. To put it simply, improving truckers' work lives revolves around much more than simply increasing their pay.
For example, retention and recruitment efforts must include optimizing driver workflows when they're on the road. Trucking companies that incorporate fleet management, workflow and route optimization software will achieve two things — increased operational efficiency and seamless, lower stress driver experiences.
Plus, when fleets elevate their training and career education to benefit and prioritize driver experiences, the company creates a more efficient transportation business and delivers improved customer service, leading to increased profits.
Detention and facility delays — plus driver parking issues
Two growing issues within the trucking industry that bear close watch in 2022 include detention and facility delays and driver parking. Granted the supply chain slowdowns and driver shortage aren't helping those trends, but the trucking sector needs to prioritize driver accommodation. Why? Driver routes and delivery times are planned to the minute. Delays or parking issues have serious, negative consequences on meeting goals.
Contributing to these delays is the port congestion. From cargo offloading and staging to moving containers out of the port, this logjam won't be resolved any time soon. The federal government has relaxed certain regulations to help get things moving again. Several ports have launched pilot programs to extend gate hours and operations up to 24/7. Crews can stack containers higher, but the challenge of empty containers sitting on chassis (the undercarriages that hold containers and attach directly to trucks) remains an issue, too. Many lots are full of these chassis and containers, and drivers can't move containers off the docks without those chassis.
There's one solution, however, trucking companies should consider: predictive analysis and automation. By incorporating these tools into next year's planning, fleets and drivers gain an advantage by preparing for potential delays and more effectively optimizing routes.
Route optimization, automation and AI
In 2022, fleets will continue prioritizing fully automated software within real-time route optimization and supply chain planning. Trucking companies capitalizing on data-driven route optimization software will see tremendous gains in knowledge and efficiency. Automation advancements have already begun incorporating historical and predictive analysis. Fleet managers armed with up-to-the-minute information about stop times, real-time traffic and weather and other variables will be much better equipped to formulate smarter, more efficient plans.
However, automation and artificial intelligence (AI) can only help fleets answer the question, "How do we realistically keep pace with demand?" And this technology, which is vital for fleet and vendor success, needs certain components to ensure successful application. When it comes to elements required for onboarding and technology deployments, trucking companies definitely need driver buy-in. Internal marketing efforts will involve drivers more directly during the implementation process.
Trucking companies need to expand their thinking to reach drivers where they are, utilizing training and education, perhaps in combination with events, reward-based initiatives, even social media, to increase and improve proper technology adoption and use.
With fleets incorporating the right software into their work processes and getting everyone onto the same page, they'll reap huge rewards. Using productivity-boosting driver workflow apps, fleet management platforms and integrated messaging and document imaging features will resolve gaps in communication, digitize and streamline processes and improve compliance and planning. Trucking companies and fleets may not have moved digital transformation to the top of the priority list — yet. But the industry's future success is absolutely connected to educating users and truck drivers in particular on how to use newer technologies.
There's no doubt the U.S. supply chain has struggled since the outset of the Coronavirus disease (COVID-19) pandemic. Organizations have been forced to do more with less. By incorporating and adopting technology with automation capabilities, trucking companies and fleets are future-proofing themselves to remain competitive, productive and profitable. Providing AI-powered solutions and focusing on improving drivers' experiences will also help to attract and retain drivers throughout 2022 and in doing so, resolve some of the supply chain issues.