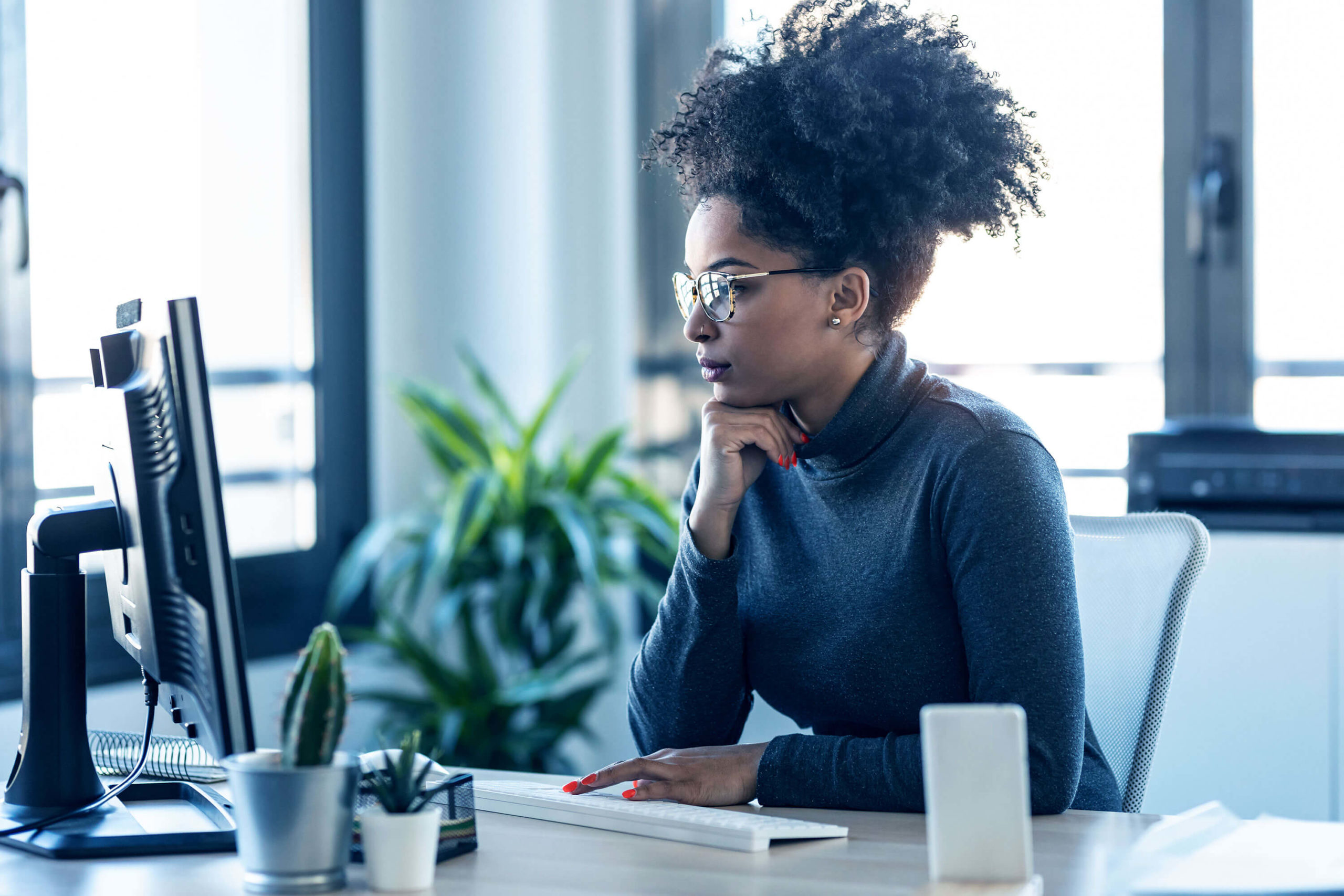 June 2021: Key Feature & Product Updates
The latest Maven software updates include several new and improved features, including the introduction of Critical Events and Idle Reporting!
Currently, mobile app users should be on version 3.41.3-3 (or higher) of the app; the app can be updated via a notification on the app or in the Google Play store.'
Maven Fleet
Critical Events
We are proud to introduce the Critical Events feature! Critical Events Reporting will allow Maven Fleet portal users to monitor and track any significant events or sudden movements from their drivers.
Critical events include: harsh braking, harsh turns, harsh acceleration, and overspeed.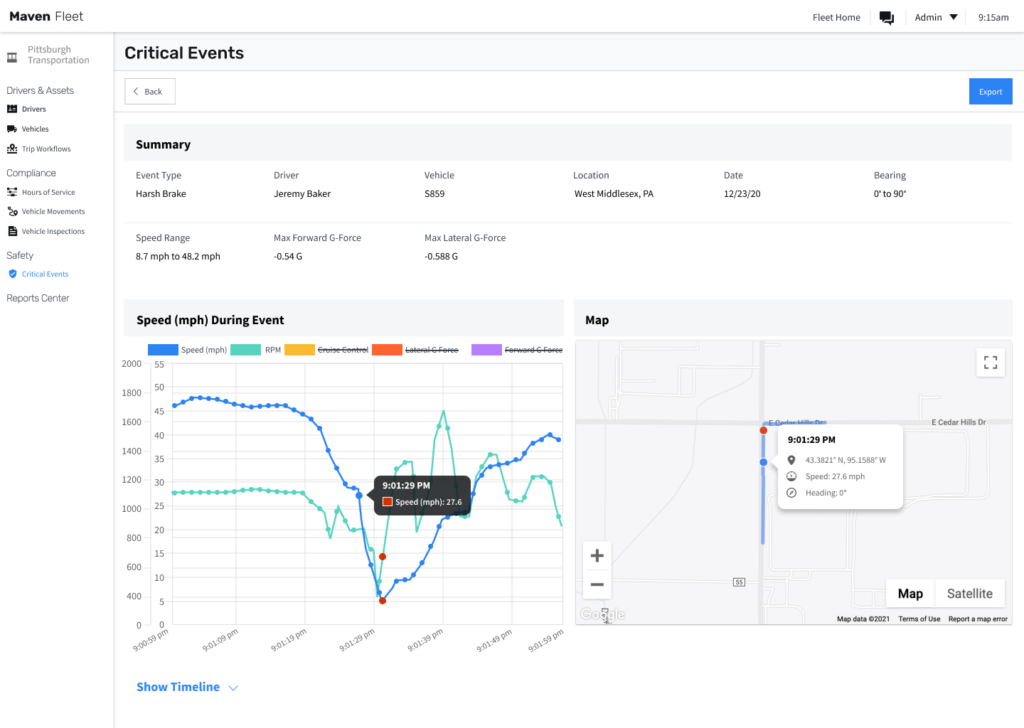 To learn more about the Critical Events Reporting feature, see the details here.
Idle Reporting
Maven's new Idle Report will provide managers in the Maven Fleet portal with the ability to view and filter idling events, allowing them to easily monitor a driver or vehicle's idle time and access insights into driver utilization and fuel usage.
Users can view and sort data and insights on events, drivers, and vehicles, including: Driver/Vehicle ID, Utilization %, Idle Time, Idle Fuel Usage, Driving Time, and Driving Fuel Usage.
To find out how you can reduce your fleet's fuel costs with our Idle Reporting feature, check out the Idle Reporting blog post.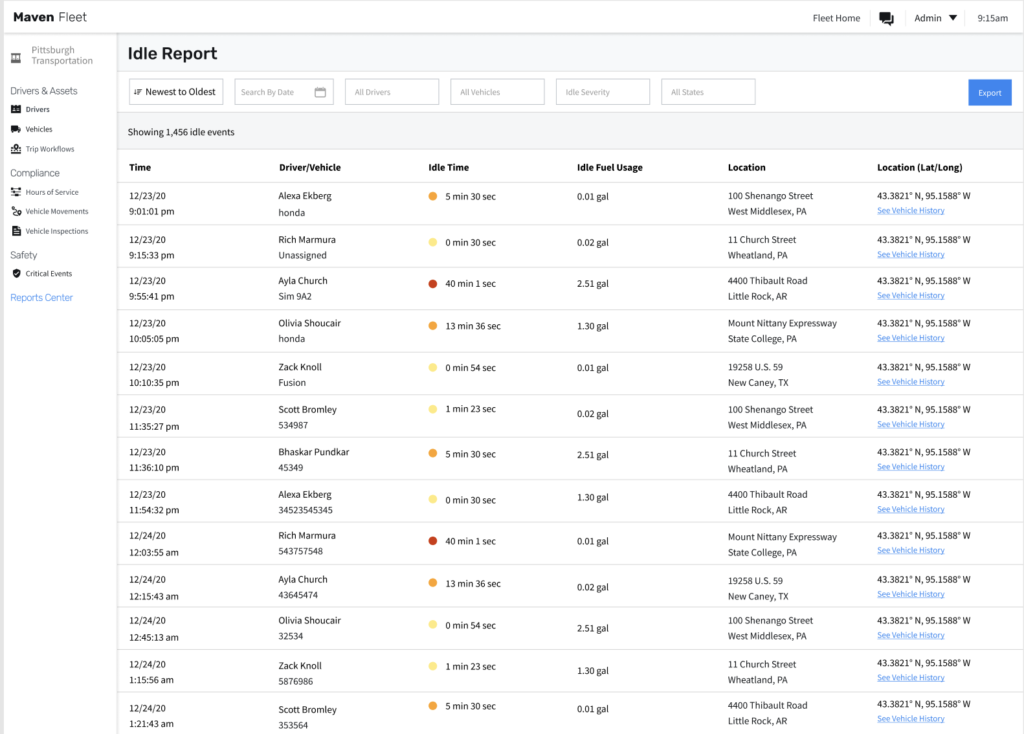 Circle up to your new HOS Timers!
Maven is excited to announce a new visual change that took place on our ELD timers on the Maven mobile app on June 18th, 2021: we now display improved circular color-coded HOS timers, rather than rectangular timers! This change has improved the user experience and design interface of the HOS timers in our Maven ELD mobile app, without impacting the functionality of the product.
Please see our blog post on the new HOS timers for more information.
Maven ELD users: be sure to update to the latest version of the mobile app to see the changes to your HOS timers.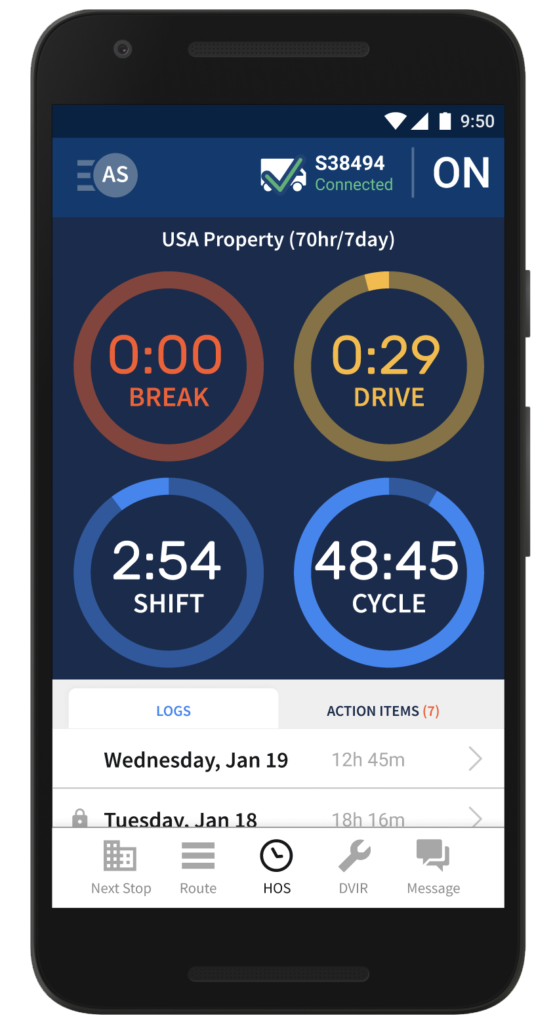 All Maven Fleet & Dispatch Portal Users
Feature Improvement: Users Page & New Page Roles
On June 18th, 2021, Maven released an updated Users Page with additional columns and filtering for groups, terminals, and roles.
This update allows fleet administrators and managers to more easily find and access current user information, as well as utilize new filtering and sorting options for both activated and deactivated users.
Additionally, this release included a new "Roles" tab on the Users page that provides fleet administrative users on the Maven portal with more control so that they can create, view, edit, and assign roles to other users. Managers with admin access can also see all roles created for their company and click into each role to update its information and edit, create, and assign its permission sets.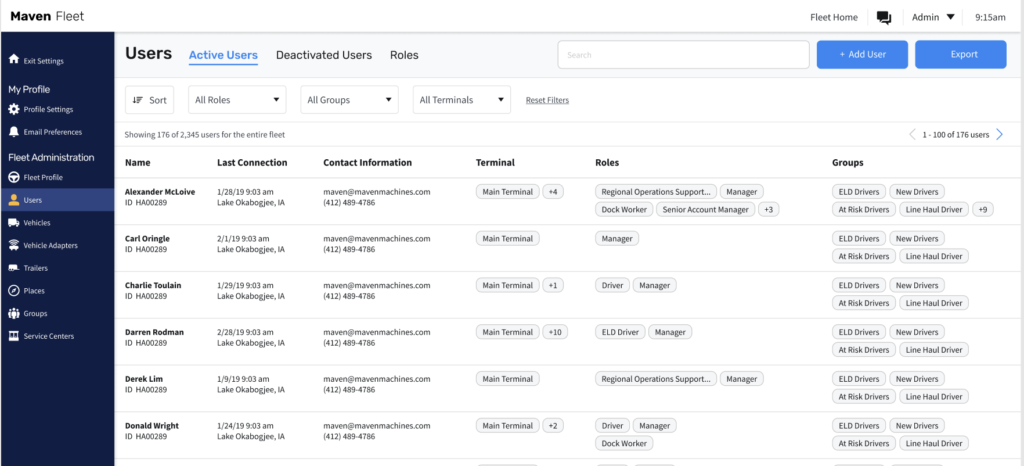 To find out how you can access these updates and other features, please contact sales@mavenmachines.com.