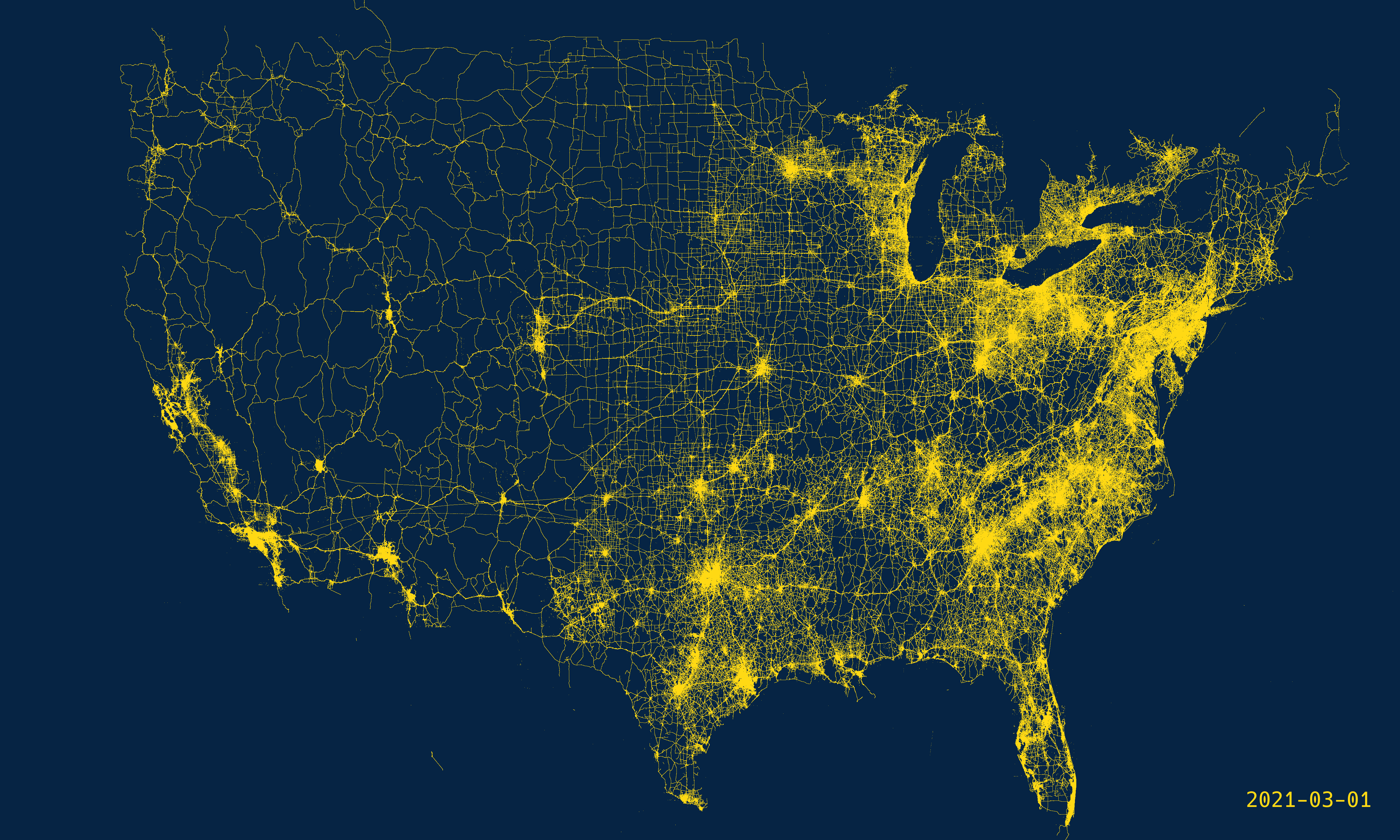 2019 to 2021 Growth in Maven's Driver User Segment
Drivers using the Maven mobile app are praising its ease of use, reliability, and other smart design elements that keep drivers on task, boost their productivity, and improve their overall job satisfaction. Enterprise-level fleets such as Daylight Transport, Ward Transport & Logistics, and GLS Canada enable their drivers to perform to the best of their abilities with Maven's solutions.
We've created this animated map to illustrate Maven's growth within the driver user segment. The map highlights over 50+ billion GPS points collected from thousands of drivers using Maven's mobile app between March 2019 and March 2021, which includes products like Maven ELD, Maven Workflow, and Maven Dispatch (Pickup & Delivery). Maven has grown across all user segments, including managers, planners, and dispatchers, but we're excited to highlight drivers here. Take a look at how the map fills in over the past two years!
Maven's headquarters are located in Pittsburgh, Pennsylvania. Additionally, we have made another animated map to show the growth in Maven's driver segment for drivers moving through the iconic area known as "The Point," which is nestled between three rivers in downtown Pittsburgh. This map was also generated using GPS points collected on Maven's software app from March 2019 to March 2021.
As we add fleets with hundreds and even thousands of trucks to our user base, we continue to hear from drivers who love Maven. The comments from drivers have been overwhelmingly positive, as evidenced in the feedback that we frequently receive:
"Maven's app is much easier to use than my old one. I recommend it to all my friends."
"The Maven app is reliable. It's also easy to learn and use. The navigation is really intuitive and simple."
"The color coding, the large buttons, and the alerts keep me more focused and on-task."
With the current driver shortage, providing the best driver experience is also essential to attracting and retaining great talent. Maven looks forward to empowering even more drivers with technology that boosts their productivity and significantly increases their overall job satisfaction.