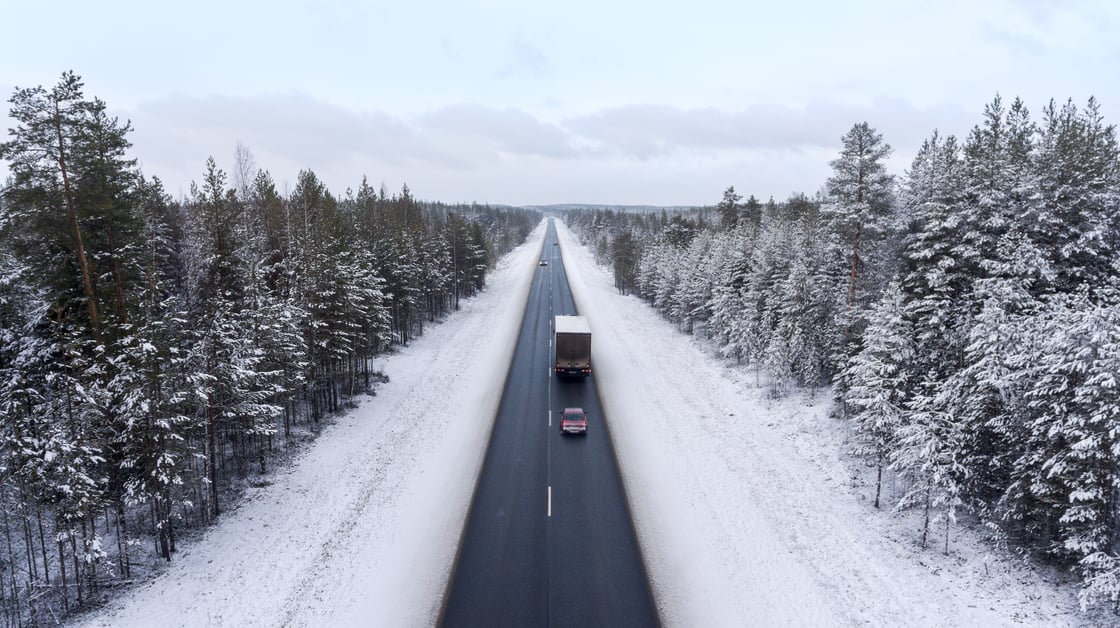 December 2022: Maven Product, Company, and Industry News
Below, we've provided an update on December 2022 at Maven and a peek into January 2023.
In early December, we hosted a Maven LTL Summit event, which was a productive and enjoyable way to collaborate with our customers and other leading LTL carrier executives (more on this event in our newsletter below). At the Summit, our Keynote Speaker was NFL Legend and food distribution business leader Franco Harris. Sadly, Franco passed away unexpectedly this week. We feel fortunate to have spent time with him recently, and we recognize and remember his legacy. His loss is felt far and wide, and he and his loved ones continue to remain in our thoughts.
In January, we look forward to participating in an LTL panel discussion and giving demos of our freight & route planning solution and other products at the SMC3 conference.
We hope that you have had a peaceful and joyous month, and we wish you a happy new year.
LTL Panel Discussion at SMC3 Jump Start 2023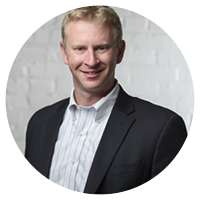 Avi Geller, CEO,
Maven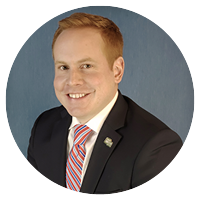 Bill Ward, Jr. President of Ward Transport & Logistics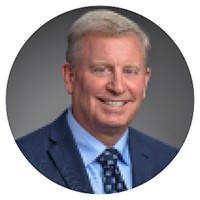 Scott Sullivan, CIO/CFO, PITT OHIO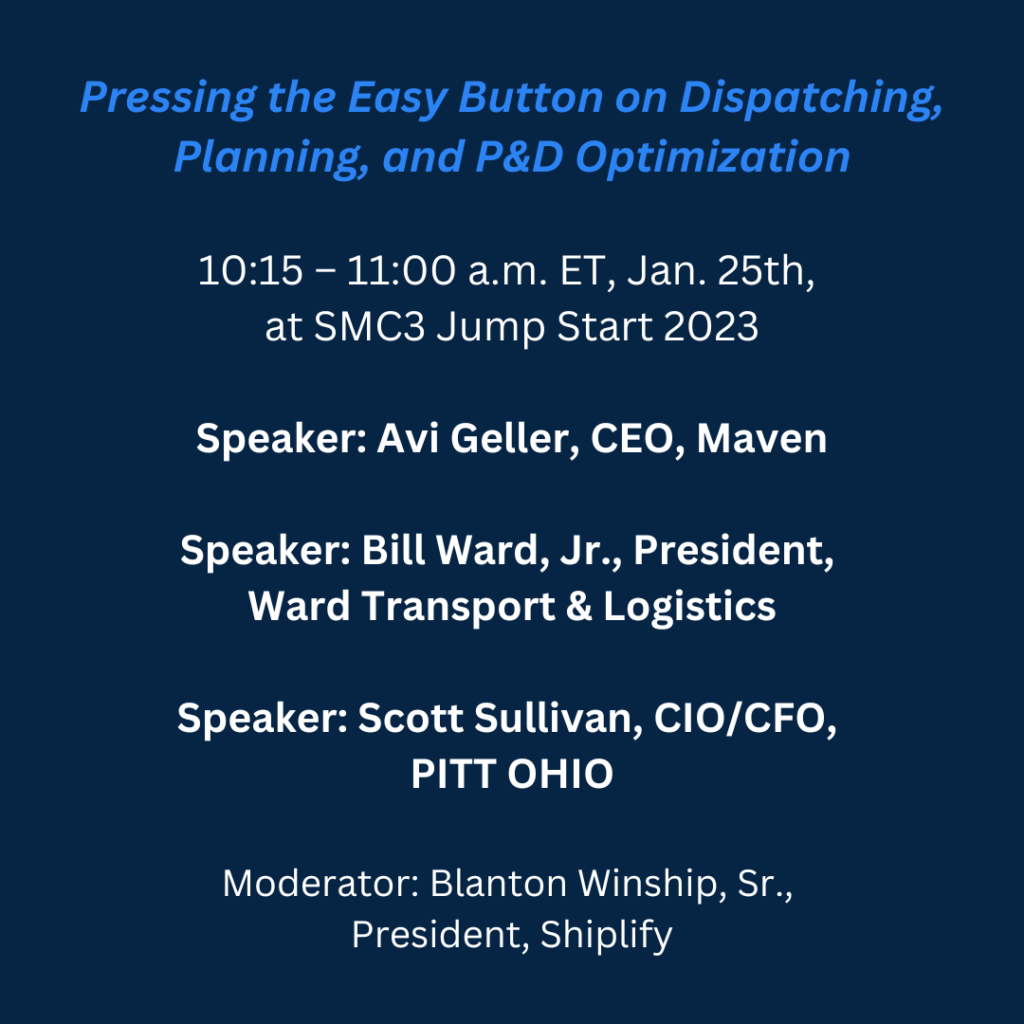 While driverless trucks are tomorrow's news, there's a growing thirst in modern LTL for technology that uses AI and machine learning to drive automation. This timely session illustrates how LTL carriers are leveraging and thinking about advancements in AI-powered, cloud-based solutions for P&D optimization, including route planning, dispatching, and more.
Please join us in the general session room 10:15 a.m ET on Jan. 25th at the SMC3 Jump Start 2023 in Atlanta for a a panel discussion with Avi Geller, CEO of Maven, Bill Ward, Jr., President of Ward Transport & Logistics, and Scott Sullivan, CIO/CFO of PITT OHIO. We're looking forward to seeing you there!
Book an In-Person Demo for Maven's Solutions, including Maven Planning, at SMC3 Jump Start 2023 in Atlanta

While at the SMC3 Jump Start 2023 conference in Atlanta from January 23rd to 25th, Maven will be hosting in-person demos of our LTL operations platform.
Please join us in person for a meeting in our office at the SMC3 conference to learn more about our products and company. Our route and freight planning, dispatch, telematics, fleet management, P&D, Workflow, and ELD software is modular, meaning that you can choose from a range of specific products or the entire platform to optimize your LTL operations, improve driver satisfaction, cut costs, and boost efficiency and profitability.
With Maven Planning, for example, you can add more P&D stops per hour while also cutting the cost of running routes and the time it takes to plan them, resulting in a positive ROI. Our executive leaders would be happy to show you these benefits in person at the SMC3.
You can also contact our SVP of Sales, Tim Jones, at tim@mavenmachines.com, directly to learn more or set up a meeting.
Event Recap: The 2022 Maven LTL Summit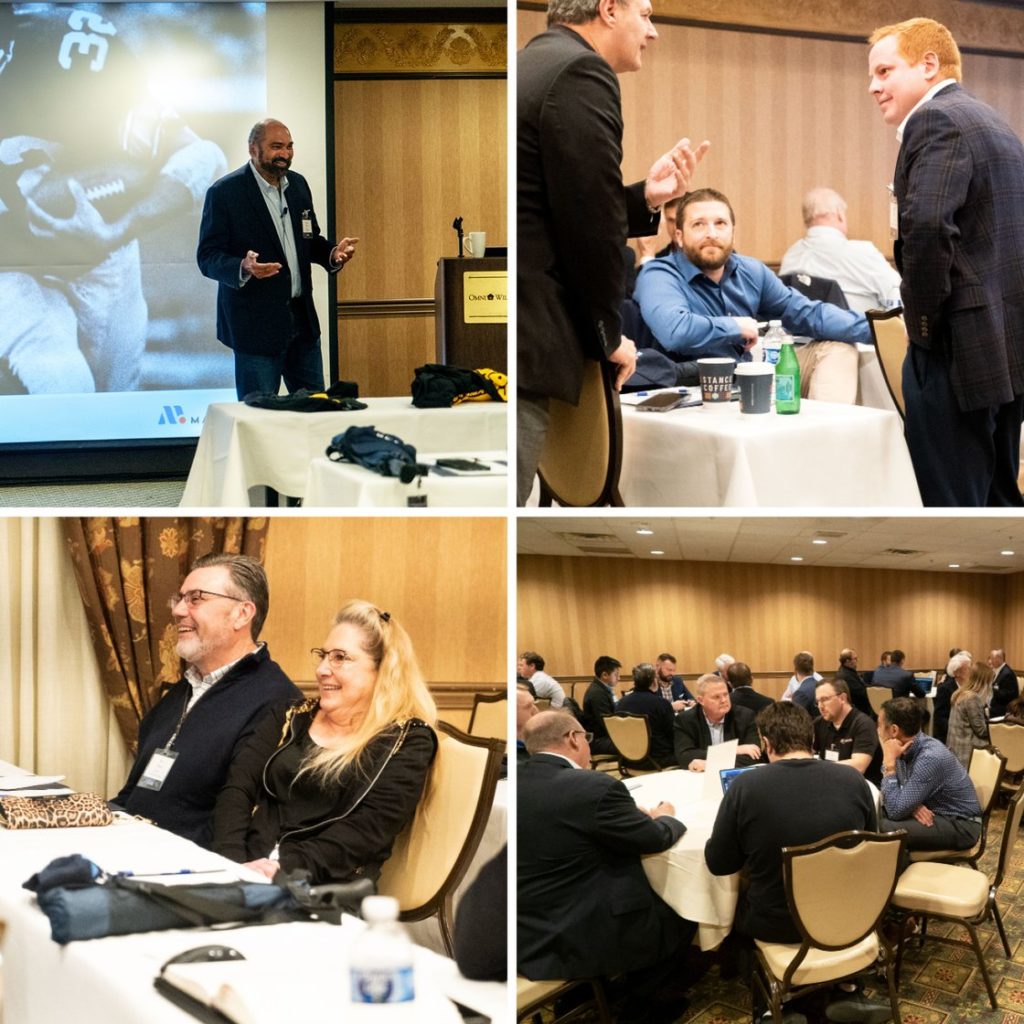 Recently, we hosted our first annual Maven LTL Summit at the Omni Hotel in our HQ city of Pittsburgh, PA. On Dec. 5 – 6, 2022, leading LTL carrier executives gathered to discuss technology and the future of LTL, learn about the newest product innovation from Maven, and network and forge long-lasting connections. Hosting an intimate gathering with a group of industry leaders, including many of Maven's customers, was a productive way to collaborate together on the future of our LTL.
We kicked off the Summit with a Speakeasy Networking & Welcome Reception on the evening of Dec. 5th. On Dec. 6th, the conference included presentations and demos focusing on Maven's unified LTL planning, route optimization, dispatch, P&D, and ELD/telematics platform. Top 30 LTL carrier leaders Bill Ward Jr., President of Ward Transport & Logistics, Ron Kieswether, VP of Operations of Peninsula Truck Lines, and Scott Sullivan, CIO/CFO of PITT OHIO provided us with their thoughts on LTL best practices, business processes, and technology usage in an informative panel discussion, and we had insightful discussions throughout the Summit. A big thank you goes out to all of those who participated in the Maven LTL Summit!
We also had a special Keynote Speaker at the Summit, Mr. Franco Harris…
A note of tribute to our Keynote Speaker, Franco Harris (1950 – 2022)
On Dec. 6th, the Maven LTL Summit featured an engaging and inspiring keynote speech by Franco Harris, NFL Legend and former Pittsburgh Steeler and President of Super Bakery. Tragically, Franco Harris passed away this week, days shy of the 50th Anniversary of his history-making Immaculate Reception play and the Steelers' retirement of his jersey, #32. We're grateful for the time that we spent with Franco, and our Maven team and Summit attendees mourn his loss. In addition to his lifelong achievements and philanthropy, Franco's kind heart and positive presence impacted our city of Pittsburgh and the world, and he will not be forgotten. Our condolences go out to his family and to all those who loved him.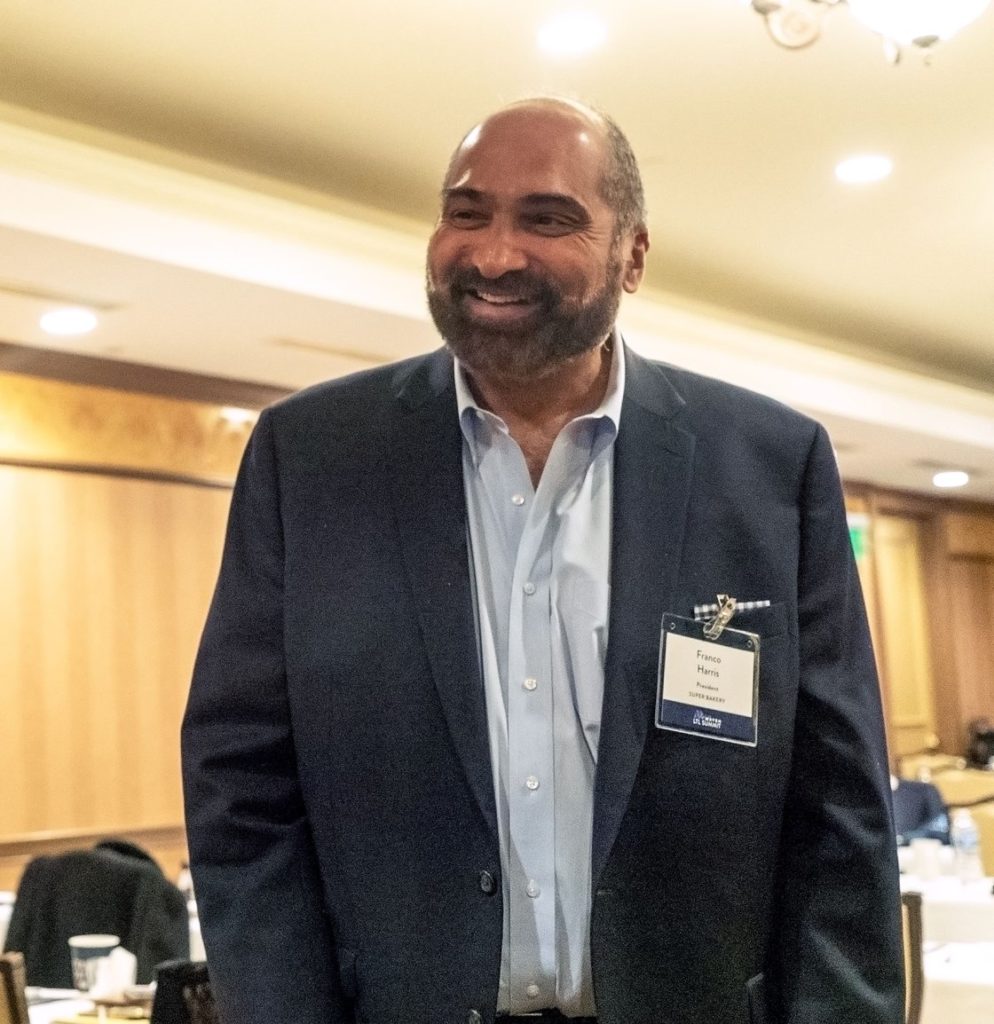 Maven Blog Recap: Recent Posts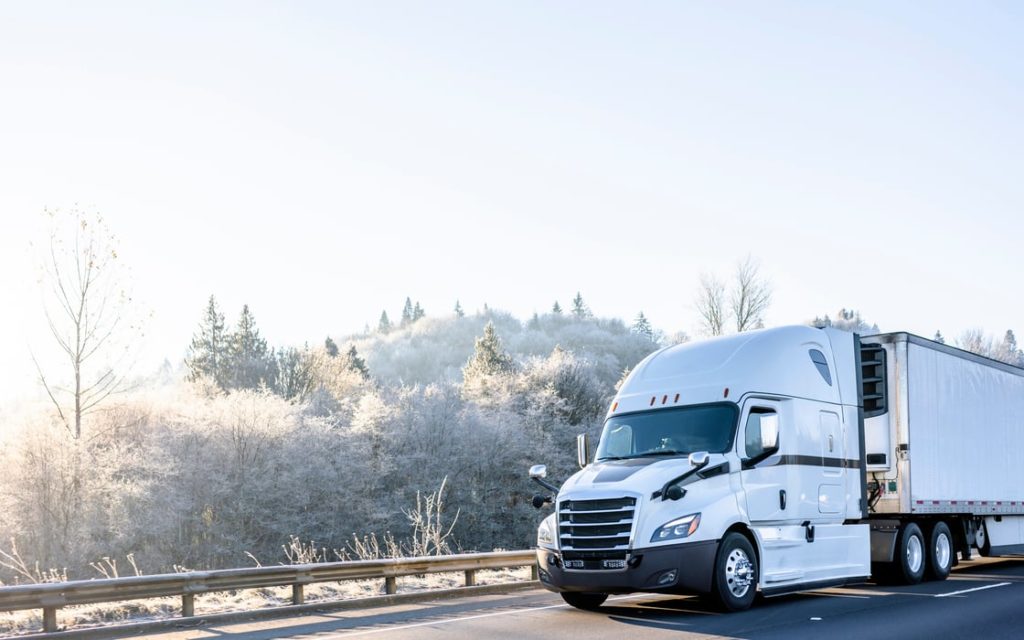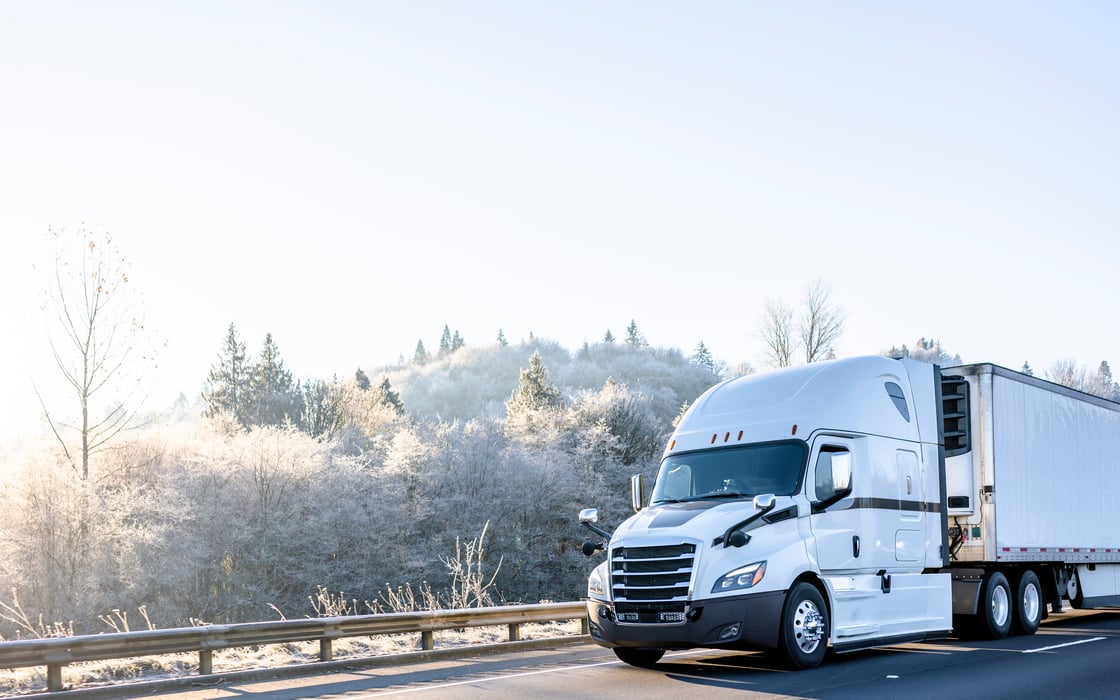 Maven Careers
Please keep an eye out for top talent to send our way. Trucking industry experience is a plus!
---