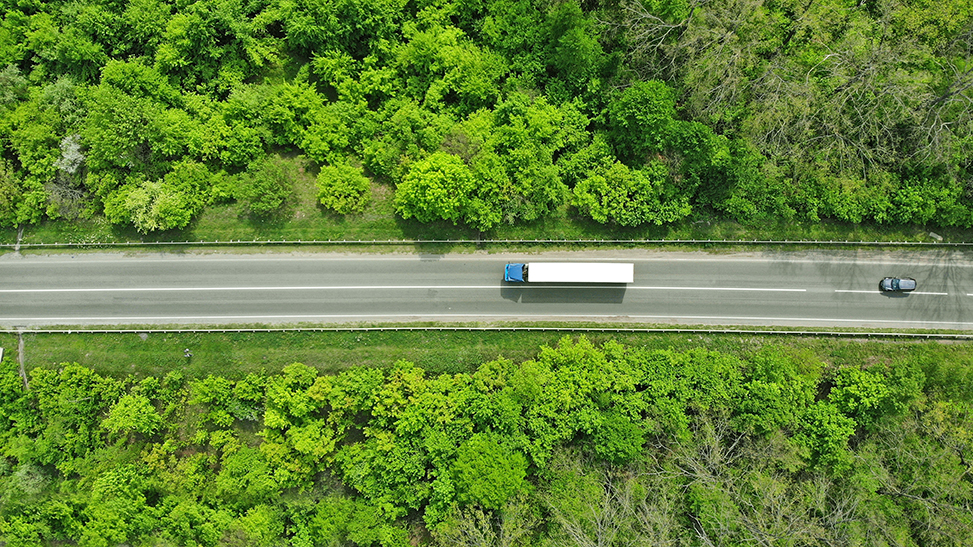 There's been a lot of travel for our Maven team this month between exhibiting at trade shows and sponsoring events, pitching to prospective clients, and working with our existing clients through deployments and training.
To keep up with the demand and busy schedule, Maven is hiring! Be sure to tell your friends to check out all of the available opportunities on our Careers page.
We're also continually adding features and functionality to our product suite; we'll be sharing additional updates soon.
Read on to learn more about what the Maven team was up to in March 2022.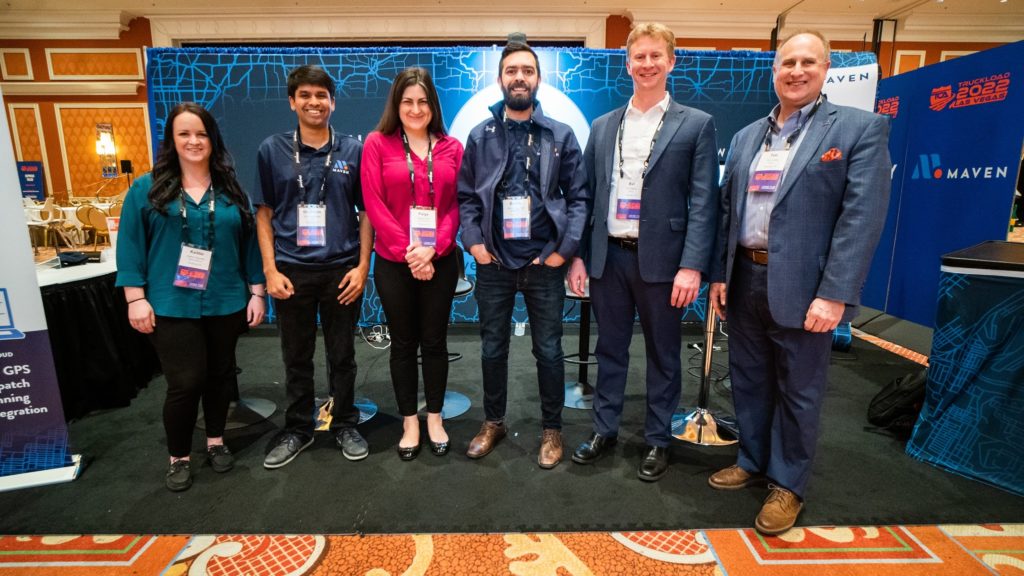 TCA Truckload 2022
The Maven team spent March 19-22 in Las Vegas, NV at the Truckload Carriers Association's Truckload 2022 connecting with carriers and technology and logistics providers. Read more about their experience in our upcoming TCA Recap blog post.
Mid-America Trucking Show (MATS) 2022 Recap
Maven attended the Mid-America Trucking Show (MATS) annual event on March 24-26, 2022 in Louisville, KY. Since 1972, MATS has offered three days full of exhibits, education, entertainment, and networking—all at the largest annual trucking event in the world. The Maven team enjoyed seeing the latest trucks on the market and speaking with truck drivers and fleet owners to learn more about their triumphs and challenges so that we can continue to better serve their needs.
Upcoming Q2 Events
Maven is gearing up for these upcoming events:
Maven will be exhibiting at the National Private Truck Council (NPTC) 2022 Annual Education Management Conference and Exhibition on April 10-12, 2022 in Cincinnati, OH. NPTC's Annual Conference and Exhibition hosts over 1,200 attendees and 160 exhibitors each year. Stop by our booth to say hello and see us demo our solutions suite!
We will be a Platinum Sponsor at the LTL-focused SMC3 Connections 2022 event in San Diego, California from June 27-29, 2022. More details to come soon.
All upcoming events can be found on our Events page.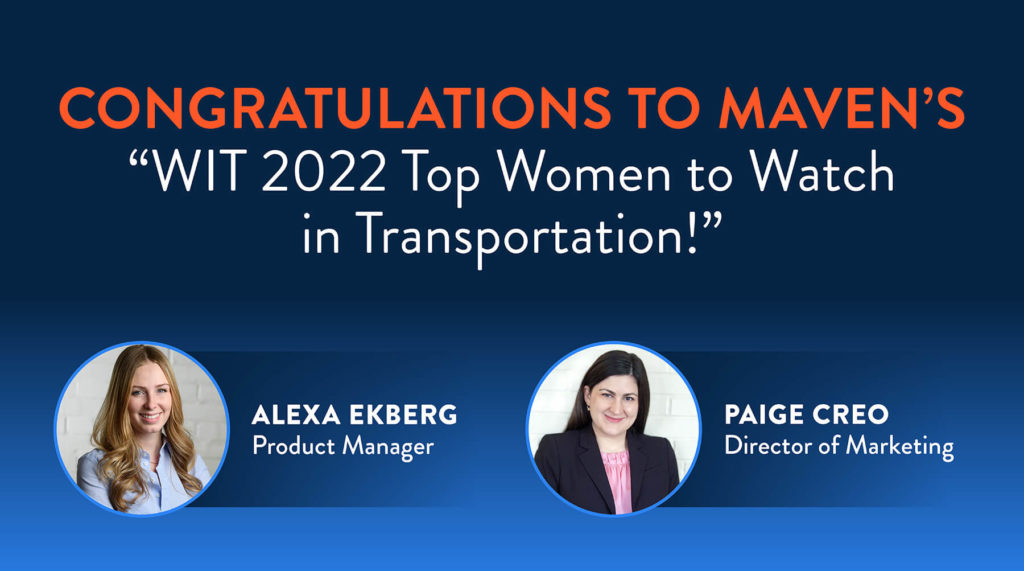 Women in Trucking Association: Top Women to Watch in Transportation Honorees
The Women In Trucking Association (WIT) announced its fifth annual list of Top Women to Watch in Transportation, and Alexa Ekberg, Maven Product Manager, and Paige Creo, Maven Director of Marketing, are named among the honorees. The editorial staff of WIT's Redefining the Road, WIT's official magazine, selected the individuals for their significant career accomplishments in the past 12 to 18 months, as well as their efforts to promote gender diversity. Read more on our blog.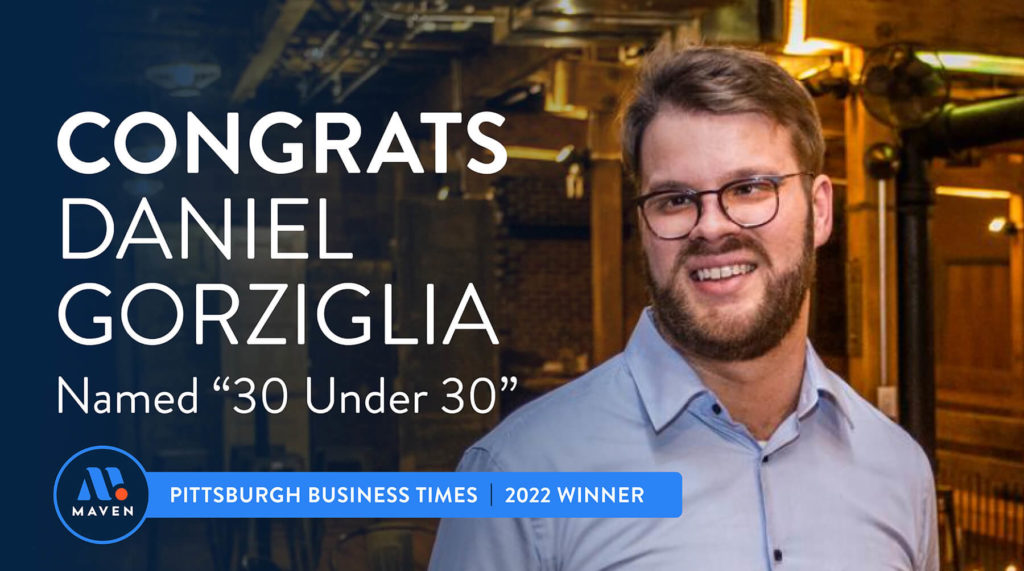 Pittsburgh Business Times 30 Under 30
Maven's Vice President of Engineering, Daniel Gorziglia, has been named to the Pittsburgh Business Times 2022 30 Under 30 list that highlights exceptional young business and community leaders from throughout western Pennsylvania. Each year, a panel of judges sifts through a poll of hundreds of nominations in the Pittsburgh region to name 30 leaders under the age of 30 who have demonstrated outstanding professional achievement while also becoming leaders in their communities. Learn more here.
Maven in the News: March 2022
Maven CEO Avi Geller was quoted in a Forbes piece about training and education for fleet management software. At Maven, we are optimistic about the future of the trucking industry in 2022 and beyond.
Avi Geller also discusses how new technology solutions can help fleets collect and use data to their advantage for Total Retail.
Find all Maven's press mentions on our Press page.
Maven Careers & Team Growth
At Maven, we seek out talented individuals who can add value to our team. Currently, we are hiring for positions in sales, finance, marketing, product management, project management, and engineering. Feel free to refer a friend! All job opportunities can be found on our Careers page.